Social Lab at The Museum
of Tolerance
The Museum of Tolerance in Los Angeles, a Simon Wiesenthal Center Museum, challenges visitors to act in the face of intolerance by building awareness of pressing issues through local and global perspectives and facilitating connection through dialogue and engagement.
The Challenge
The Social Lab is a space for visitors to explore their social responsibility in the world, as they participate in sixteen media-driven experiences, each thematically building upon each other. The experiences do not shy away from difficult conversations and inquiries. At the interactive tolerance lens, visitors respond to poignant questions, adding their voices and selfies, committing to be a face of change. Their images and responses alongside real-time data visualizations combine to create a digital kaleidoscope of what we stand for as a community.
Project Vision
Beginning with an interactive BiasTest we come to realize that we all have innate biases. Poignant films, including topics of Social Justice, Civil Rights, anti-Semitism, and the Power of Comedy provide a balance to the interactivity of the Social Lab, giving moments for pause and reflection.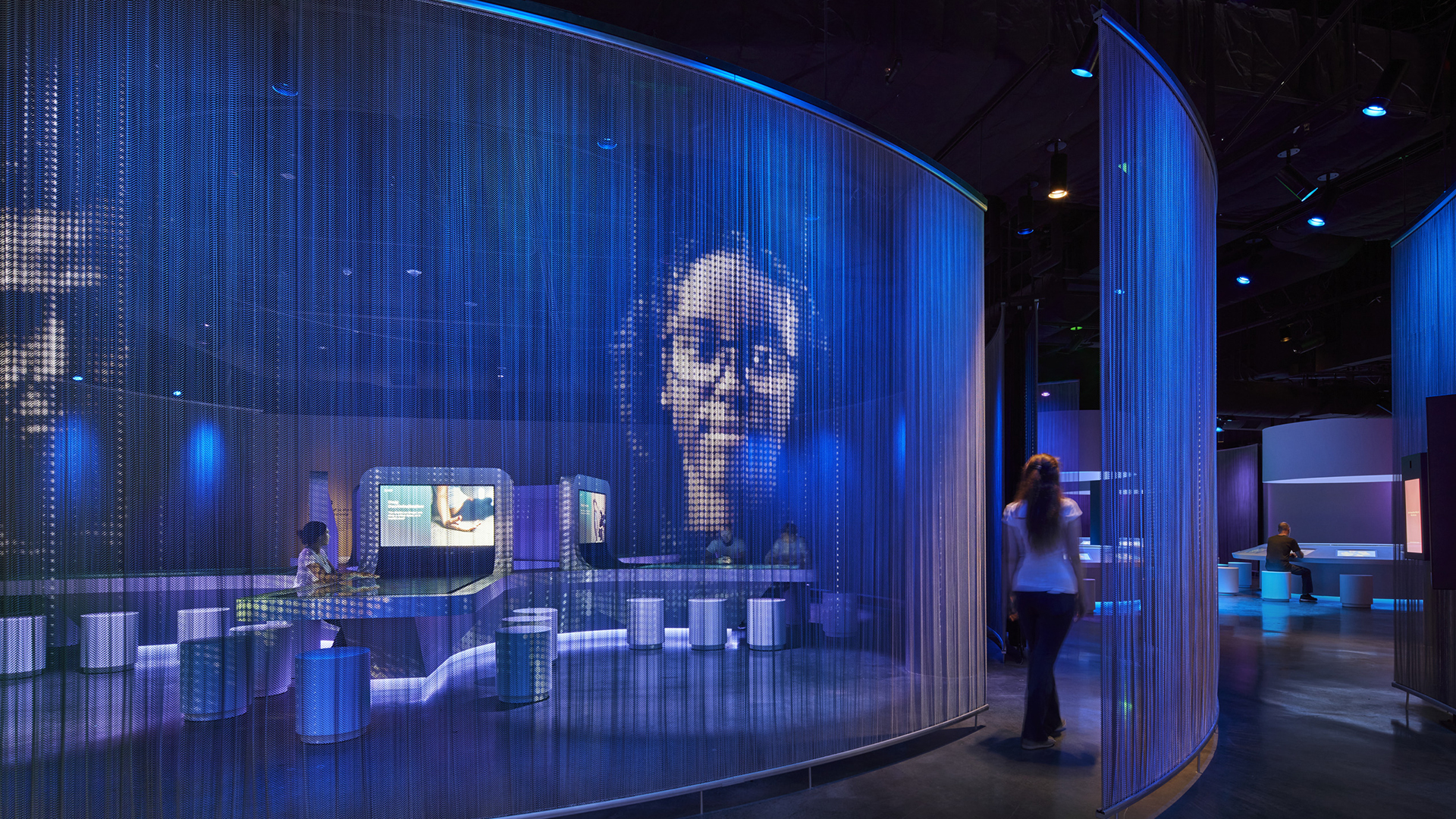 Design + Execution
The culminating experience is designed to inspire us to make a difference as we leave the Social Lab and enter the world at large. Visitors are enveloped into a spoken word introductory film, "Who Are We?," bringing to the forefront our interconnectedness through the struggles of social injustice and inequality. An angled hallway of mirrors prompts us, through reflection, to look inward as it opens to freeform path of discovery. Contemporary issues of social relevance are explored from an individual, communal, national, and global perspectives.
Information can be sent to visitors about relevant organizations working on the issues they are committed to. This experience facilitates transforming knowledge into action. As visitors exit through a poetic word gesture-based projection, as they move through a sea of negative words, their presence and actions bring light into the darkness. Positive words break through the negative sea, accompanied by inspirational quotes from those that have come before.

Project Details
Design Team
Marla Supnick (principal-in-charge)
Maureen Lin (art director / lead designer)
Jeff Becker (director of creative technology)
Alisa Katz (project manager)
Sorn Bunnag, (producer)
Yuki Collins, Joyce Zheng (designers)
Ritesh Lala, Henry Tseng (lead programmers)
Collaborators
Yazdani Studio of CannonDesign (architecture)
Sierra Construction (fabrication)
Electrosonic, Inc. (digital fabrication)
HLB Lighting Design (lighting design)
Photo Credits
Benny Chan Architectural Photography
Daddy Ramazani (director)
Ava Rikki (director, director of photography)
Ashler Soter, Liz Holland (producers)
Kyle Mathers (editing, videography)
Open Date
August 2021