Seat at
the Table
Highlighting the current state of gender inequity in America on the centennial of the 19th Amendment to the U.S. Constitution, this exhibition asks, "Where are we now?" Challenged to capture the attention of visitors without leaning on partisan cues, the experience centers around having a "seat at the table" to connect history with relevant and necessary action.
The Challenge
The American suffrage movement being marked by racial discrimination as it prioritized the vote for white women added to a long history of one marginalized group "winning" at the expense of others. A key strategy for the Institute for Women's Health and Leadership is building diverse coalitions, so the challenge was to inspire all audiences to be advocates for gender equity.
Project Vision
Dome created an experience around having a "seat at the table." The form of the seat and its symbolism create multiple points of entry for visitors of different ages, genders, and abilities. Inspired by the Kimmel Center's surrounding theaters, the exhibition acts as an open stage, inviting visitors to become participants in each scene.
Seat at the Table Video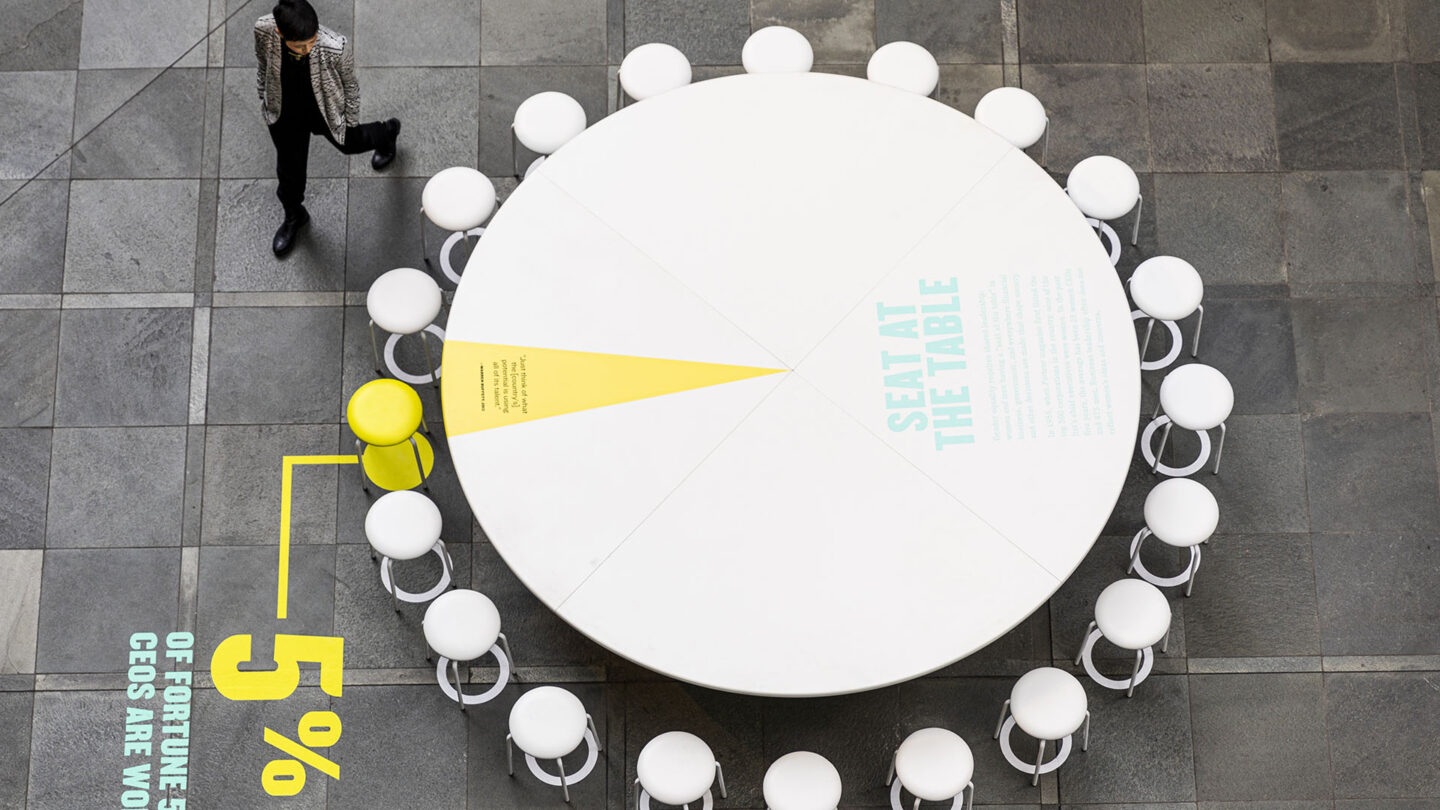 Design + Execution
While the exhibition honors women's suffrage and its pioneers, the purpose was to address the current, deep imbalance of decision makers in our country and engage multiple generations across the political spectrum towards civic engagement. Dome worked closely with the Vision 2020 team to create a strategic plan for the visitor experience and the physical components that would bring stories of empowerment, disenfranchisement and intersectionality to life.
The custom- built furniture, color palette, and scale of typography takes advantage of the expansive space and elevated vantage points. As visitors move through the atrium, they encounter a series of statistics as though stepping into an analysis of the country—pie charts and bar graphs are extruded into furniture, numbers are two feet long and titles can be read from three balconies above.
At the ground level, visitors can walk through the exhibition reading content at a grand scale. They can also dwell longer on each piece for a more intimate experience that is accessible to visitors of various ages, heights and abilities. From a bird's- eye view, visitors can see how elements of the exhibit align to the slate floor tiles like a sheet of grid paper.
All physical components, including the interactive screens, are modular and movable. In addition, the visitor journey takes advantage of the asymmetrical angles in the space and inclined floor with site- specific environmental graphics.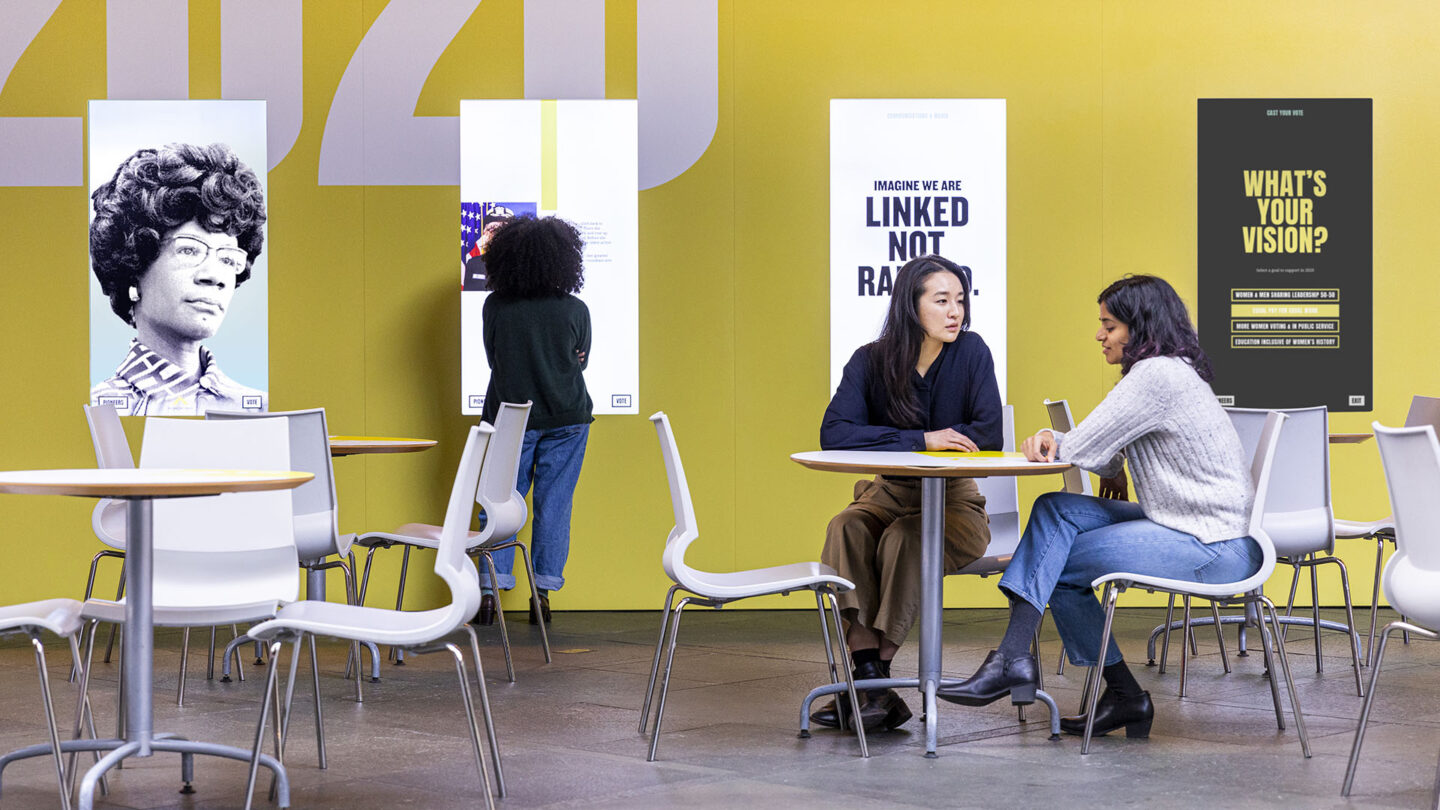 Project Details
Design Team
Katie Lee
Lynn Kiang (exhibition strategy, creative direction, design lead)
Collaborators
Art Guild, Inc. (fabricator)
Lynn H. Yeakel (Director, Institute for Women's Health & Leadership; Founder and President, Vision 2020)
Melissa Clemmer, Lenfest Center for Cultural Partnerships, Drexel University (curator/project manager)
Page Talbott, Lenfest Center for Cultural Partnerships, Drexel University (curator/project manager)
Joanne Murray (Vision 2020 Historian)
Dan Basmajian, MakerB Studio (soft furnishings design)
This is our work (graphic design)
Bad Idea Factory (software development)
Photo Credits
Jens Ohlsson, Dome Collective (photography)
Les Munoz (videography)
Dome Collective (video editor)
Open Date
March 2020