Ann Arbor City Clerk's Satellite Office
@ UMMA
This project brought a pop-up satellite city clerk's office to the center of a university campus and aimed to increase student participation by providing education about and access to voting.
The Challenge
Most college students are interested in voting. However, when faced with an unfamiliar process and confusing rules, students' anxiety about "doing it correctly" often becomes an obstacle to acting on their intention to vote. Grounded in behavioral science research, each aspect of the experience was designed to be welcoming and reassuring for new, college-age voters.
Project Vision
The design team sought out to create multiple opportunities to clarify the process and reduce anxiety for student voters. The team thought carefully about the guidance that new voters might need and designed a system of information delivery that unfolded at each phase of the process. Multiple design elements along with consideration to the interpersonal interactions while voting were updated to allow ease during the process for student voters.
Design + Execution
A sequence of touchpoints—wayfinding elements, explanatory materials, peer mentors and interactions with clerks—created multiple opportunities to clarify the process and reduce anxiety for student voters. A system of information delivery unfolds at each phase of the process. A table near the entry with clipboards, pens and registration applications also carried explanatory text about the correct way to complete the form. Within the privacy of the voting booth, rules for filling out the ballot were clarified.
Trained student volunteers welcomed their peers and helped them navigate forms and prepare documents as they waited for their turn with a clerk. Once in the office, students were seated comfortably and the clerks, particularly attuned to the needs of first-time voters, initiated conversation and encouraged questions. Specially designed shirts made volunteers and clerk staff visible and approachable.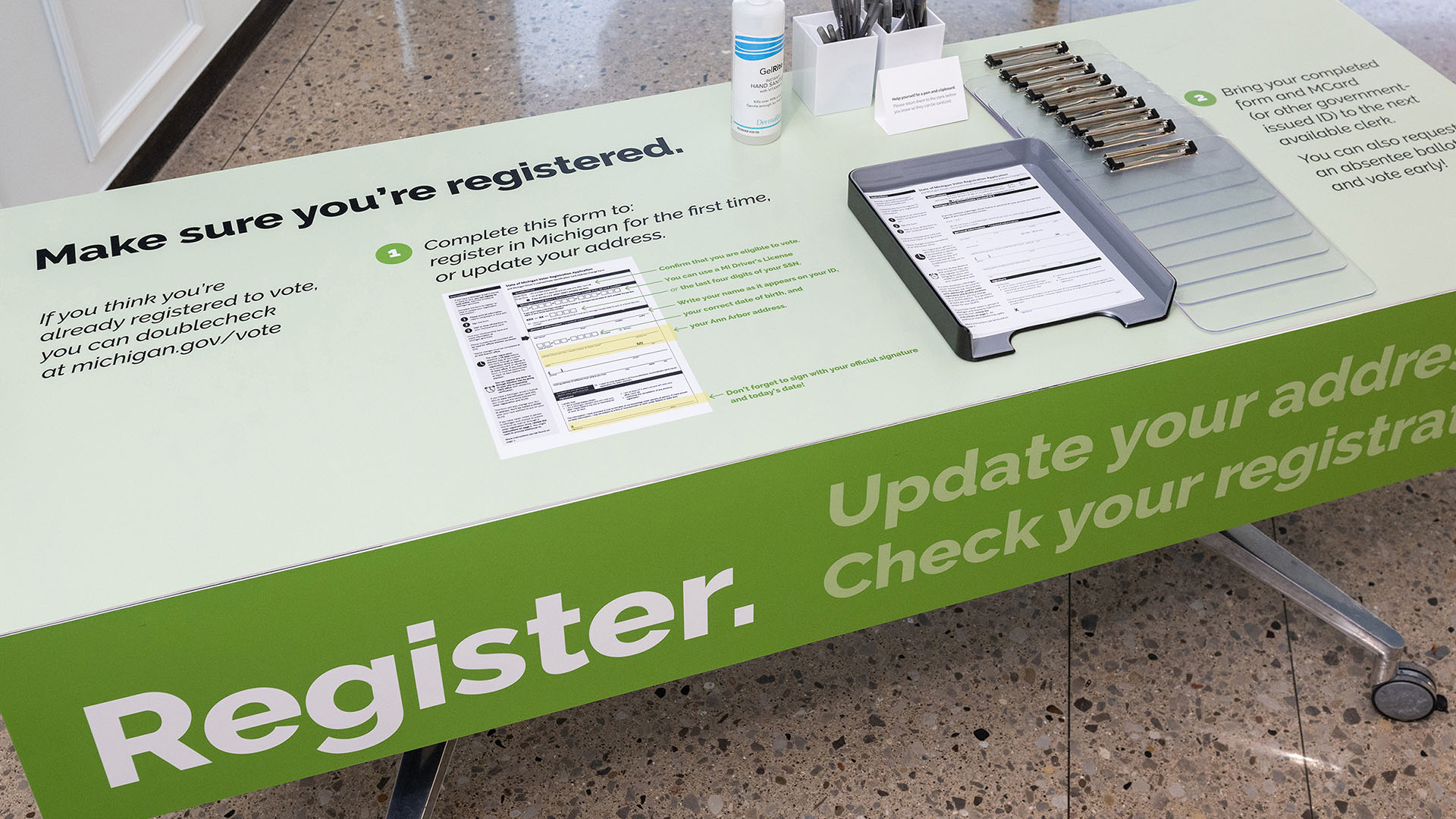 Project Details
Design Team
Hannah Smotrich (design/production/installation supervision)
Stephanie Rowden (design/production/installation supervision)
Briannon Cierpilowski (UMMA project lead)
Collaborators
ExpresSign Design, Ann Arbor (produced and installed vinyl)
"Witness Lab" by Courtney McClellan (previous exhibition that provided tables, chairs and wall mounted light boxes)
Photo Credits
Eric Bronson (photography)
Michigan Photography (photography)
Mark Gjukich (photography)
Sky Christoph (videography and music)
Open Date
September 2020