More than Sports—10 Standout Stadiums

Read Time: 4.5 minutes
Scroll through the slideshow above to see standout stadium experiences from around the world.
We asked a range of sports and entertainment experiential graphic design experts within the SEGD community for their picks of the best stadium experiences across the globe. Several were quick to point out that a lot goes into great stadium experiences—it's not just the team or the sport—it's the feeling that the space imbues as well. "Firstly it's important to understand what makes a great stadium experience," says Simon Borg, associate principal at Populous. "It can't always be put down to facilities; it's about creating an environment in which fans feel a connection to the club. The best stadium experiences are the most authentic ones."
Others discussed the challenges posed to designers. "Standout stadium and arena experiences engage fans, recruits, and audiences alike at multiple levels. The spaces must be intuitive with successful placemaking, as well as define, then transition between spaces while maintaining brand consistency. They must also transform over time and personalize appropriately," explains Renée Malloy Ludlam, senior experience designer at Jack Porter. "They recognize the past, embracing nostalgia, but pave a path for future stories to unfold."
With the holistic picture of the stadium and fan experience in mind, they gave SEGD their recommendations. Enjoy!
This list has been compiled from our experts' top recommendations and is presented in no specific order.
Statefarm Stadium | Glendale, Ariz.| HOK Sport, Eisenman Architects, Pentagram, Entro, Daktronics
The favorite of the designers polled, Statefarm Stadium is the home of the Arizona Cardinals and winner of a 2007 SEGD Global Design Awards Honor Award. A dream-team of experiential graphic designers from Pentagram and Entro collaborated to create the creative and high-impact graphic wayfinding and placemaking program for the $450 million stadium.
Article| Site| Video
Mercedes-Benz Stadium | Atlanta | HOK Sport, AMBFO, Dimensional Innovations, Daktronics
Mercedes-Benz Stadium made its much-anticipated debut in 2017. The new home of the Atlanta Falcons and Atlanta United FC is one of the most technologically advanced venues to date. It features an integrated LED digital canvas of uniquely-shaped displays containing more square footage than any other venue in the world.
Article| Article| Site| Case Study| Case Study| Case Study| Video
Allianz Arena | Munich | Herzog & Meuron
Originally designed to host two teams, TSV 1860 Munich and FC Bayern Munich, the façade of Allianz Arena Munich illuminates to represent the team that's playing at home that match. It also responds to various other events, like turning blue when Chelsea won the champions league title there.
Site| Video| Video| Case Study| Wiki| (Photo: Wikimedia Mattes)
Metlife Stadium | East Rutherford, N.J. | HOK Sport, Ewing Cole, Rockwell Group, Bruce Mau Designs, Daktronics, Skanska USA, Thornton Tomasetti, Infinite Scale
MetLife Stadium, home of the New York Jets and New York Giants, is home to 49 digital displays, totaling well over 45,000 square feet. Commonly benchmarked when developing new sponsorship models, four main displays in each corner of the stadium, are the focal point and change depending on which team is playing.
Case Study| Case Study| Article| Article| Site| (Photo: Metlife Stadium)
US Bank Stadium | Minneapolis | HKS Architects, Dimensional Innovations, Infinite Scale, Selbert Perkins Design, Daktronics, Serigraphics Sign Systems
U.S. Bank Stadium, a giant glacier rising from the Twin Cities with intersecting planes and high-peaked asymmetrical roof, informed the visual language of the wayfinding designed by Selbert Perkins Design, while Infinite Scale consulted on the stadium's brand integration, working closely with the Vikings in-house marketing and design staff. 
Video| Article| Article| Article| Article| Case Study| Case Study
T-Mobile Arena | Las Vegas, | Populous, Populous Activate, Selbert Perkins Design, Daktronics, Thornton Tomasetti
A new Las Vegas landmark, T-Mobile Arena, is a green building, designed by acclaimed firm Populous. The largest space of its kind in the city, the arena boasts 20,000-seats, 54 luxury and party suites, over 24 private boxes, outdoor balconies with views of the plaza and strip and a stunning 9,000-square-foot LED video mesh on the exterior façade.
Article| Article| Site| Case Study| Case Study
Melbourne Cricket Ground | Melbourne, Australia | Cox Architecture, Jackson Architects, HOK, Populous, Aurecon, various others
Worth mentioning for its scale (accommodates 100,000), National Sports Museum and long history (which began in 1853) alone, the event spectator experience is the most notable feature of MCG. The stadium is circular and creates a gladiatorial atmosphere, especially for events like the boxing day test match between Australia and England or the AFL grand Final.
Site| Wiki| Case Study| Case Study| Case Study  (Photo: Wikimedia)
Fenway Park | Boston | D'Agostino Izzo Quirk Architects, Ashton Design, Gilbane, Triangle Signs, various others
The Boston Red Sox engaged in a multi-year plan to expand and renovate Fenway Park, where project components included improvements to the ballpark's infrastructure, life safety, concession areas, restrooms, new high definition video boards and advertising signage. The stadium is now considered the best experience in MLB.
Case Study| Case Study| Timeline| Site| Wiki| Article| Book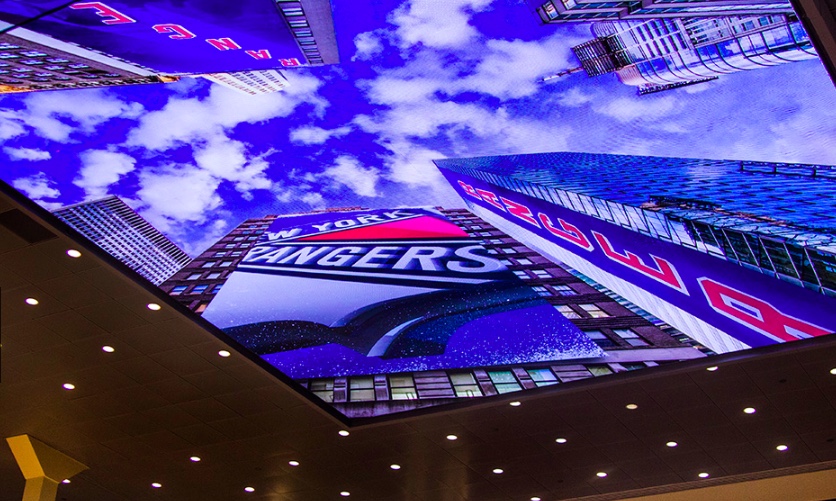 Madison Square Garden | New York | BBB Architects, Daktronics
From surrounding and center-hung LED displays, to expanded concourses, first-class food and beverage options, to more comfortable seats and enhanced sightlines, to the special exhibits celebrating The Garden's unrivaled history, the revamped (as of 2013) facilities reinforce the building's position as The World's Most Famous Arena.
Article| Case Study| Video| Site| Wiki| Article| Design Study| Design Study (Photo: Daktronics)
Tottenham Hotspur Stadium | London | Populous, Populous Activate, Jump Studios, Daktronics
This new stadium opening in March 2019, might prove to be the best total stadium experience in the United Kingdom. Supported by a wide range of hospitality offerings, the branding and reactive digital wayfinding will be fully integrated.
Case Study| Case Study| Wiki| Site| Article (Photo: Populous)