The Tactile of History. Memorial to the Victims of the Soviet Occupation
The Tactile of History is a commemorative monument of the repressions committed by the Soviet occupying regime against the Latvian people. The memorial's unveiling ceremony commemorated the 80th anniversary of the first mass deportations from Latvia. The memorial also honors the memory of tens of thousands of other victims who suffered repressions during the subsequent years of the occupation.
The memorial forms a uniform complex with the future Museum of the Occupation of Latvia in the center of the Old Town of Riga. The memorial serves as a reminder to keep the past in mind so that future generations do not allow the return of totalitarian ideologies.
One side of the memorial is designed in the pattern of a traditional Latvian blanket. The blanket is a symbol of human pain, which is revealed in beautifully designed semantic form, ornaments and color. This side of the memorial faces a broad square, making it a backdrop for official commemorative events and State visits.
The pattern of a traditional Latvian blanket is formed from two-color finish elements: red and light gray granite. Incorporated into the center of the wall is the image of a wagon, with steps ostensibly leading to infinity, symbolically alluding to deportation echelons. Integrated into the wagon is a simple and powerful message: "For Remembrance."
The other side of the memorial wall faces a narrow street in the Old Town and provides the opportunity to commemorate the victims of the occupation in a much more personal atmosphere. Integrated light and audio elements give the memorial an additional dimension, expanding the horizons of perception.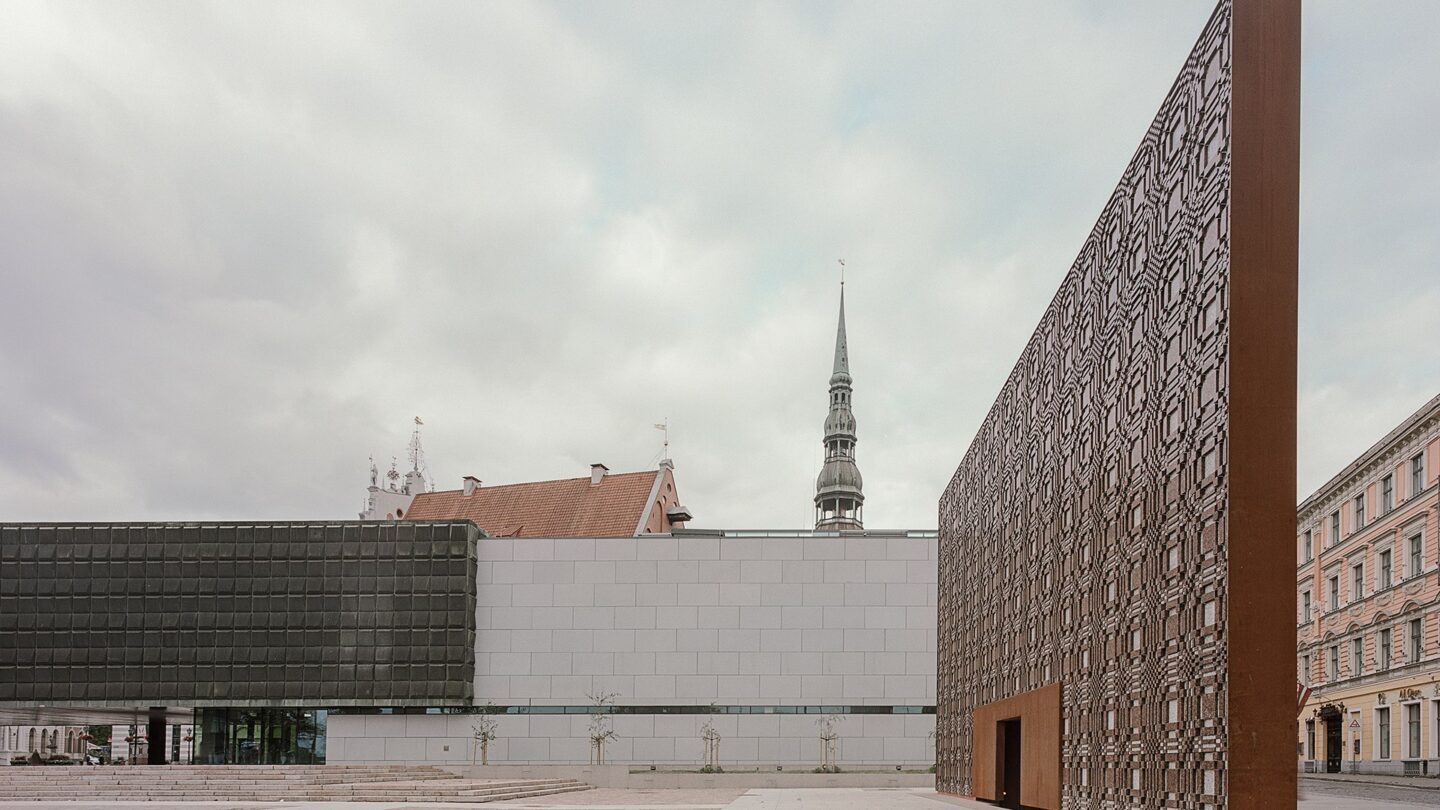 This side of the wall is built from a monolithic mass of toned red concrete, which will tarnish over the course of time as natural precipitation runs down the vertical relief.
Replicated at the center of this wall is a handkerchief with embroidered names of people. Made from weathered steel (Corten), it graphically depicts the embroidery of the original handkerchief, which was sewn by one of the many deportation victims. On the handkerchief was sown the names of other imprisoned companions with threads from the prisoners' clothes. The names of these people testify to the scale of the tragedy of the Soviet regime, which impacted not only Latvians but also many other peoples.

Project Details
Design Team
Kristaps Ģelzis (artist)
Voldemārs Johansons (sonologist)
Ilze Miķelsone (architect)
Dagnija Andersone (principal in charge)
Holgers Elers (creative director)
Mārtiņš Vītols (main designer)
Ingūna Elere (creative director)
Laura Lorence (graphic designer)
Anna Kriškāne (project manager)
Collaborators
Ilze Miķelsone (architects)
Sarma&Norde Architects (architect)
ALPS (landscape architecture),
Design Studio H2E, (planning firm)
Taktila (planning firm)
Sarma&Norde Architects (planning firm)
Steelprofi (physical fabrication)
EM Linea (physical fabrication)
Pilsakmens (physical fabrication)
Skonto būve (physical fabrication)
Reverie Trading Group (physical fabrication)
Tilde (physical fabrication)
Promark Constructions (consultant, supervisor)
Photo Credits
Indriķis Stūrmanis
Ingūna Elere
Design Studio H2E
Open Date
June 2021