The Story of the Moving Image – Year-Round Centrepiece Exhibition
ACMI partnered with their experience design firm to design The Story of the Moving Image's new centrepiece exhibition. The free, 1,600sqm exhibition takes visitors on a journey through the past, present and future of the moving image.
The Challenge
The team needed to deliver a contemporary museum of screen culture that was designed to evolve over the next decade and be able to respond quickly and rapidly to changes in the field whilst also telling a coherent and idea-sparking visitor experience for ages 8 and above.

There are five distinct sections of the exhibition which frame the major moments in moving image history, including the origins and future of cinema; production design and the creative process; Australian culture and stories; the rise of videogames; and how screens inform, influence and empower us.
Project Vision
This ambitious and building-scale redevelopment aimed to transform ACMI and open up new ways to curate and display contemporary and historical artifacts, artworks, and media.

As Australia's national museum of screen culture, ACMI needed to create a centrepiece exhibition that spoke to the past, present as well as the future of the moving image.
Design + Execution
This project was a large co-design experience. ACMI's own significant in-house design, technology and exhibition building experience alongside curatorial expertise was coupled with that of Second Story/Razorfish and BKK Architects and all three parties worked collaboratively over an extended period of two years to develop and evolve the work.

The implementation/installation phase further evolved the developed the work with local Australian companies Lumicom, Grumpy Sailor, Arterial, and Swinburne University's Centre for Design Innovation amongst others. This long co-design and co-implementation model kept expertise within the institution and allowed for a much wider embedding of change and transformation across ACMI that long outlives the project.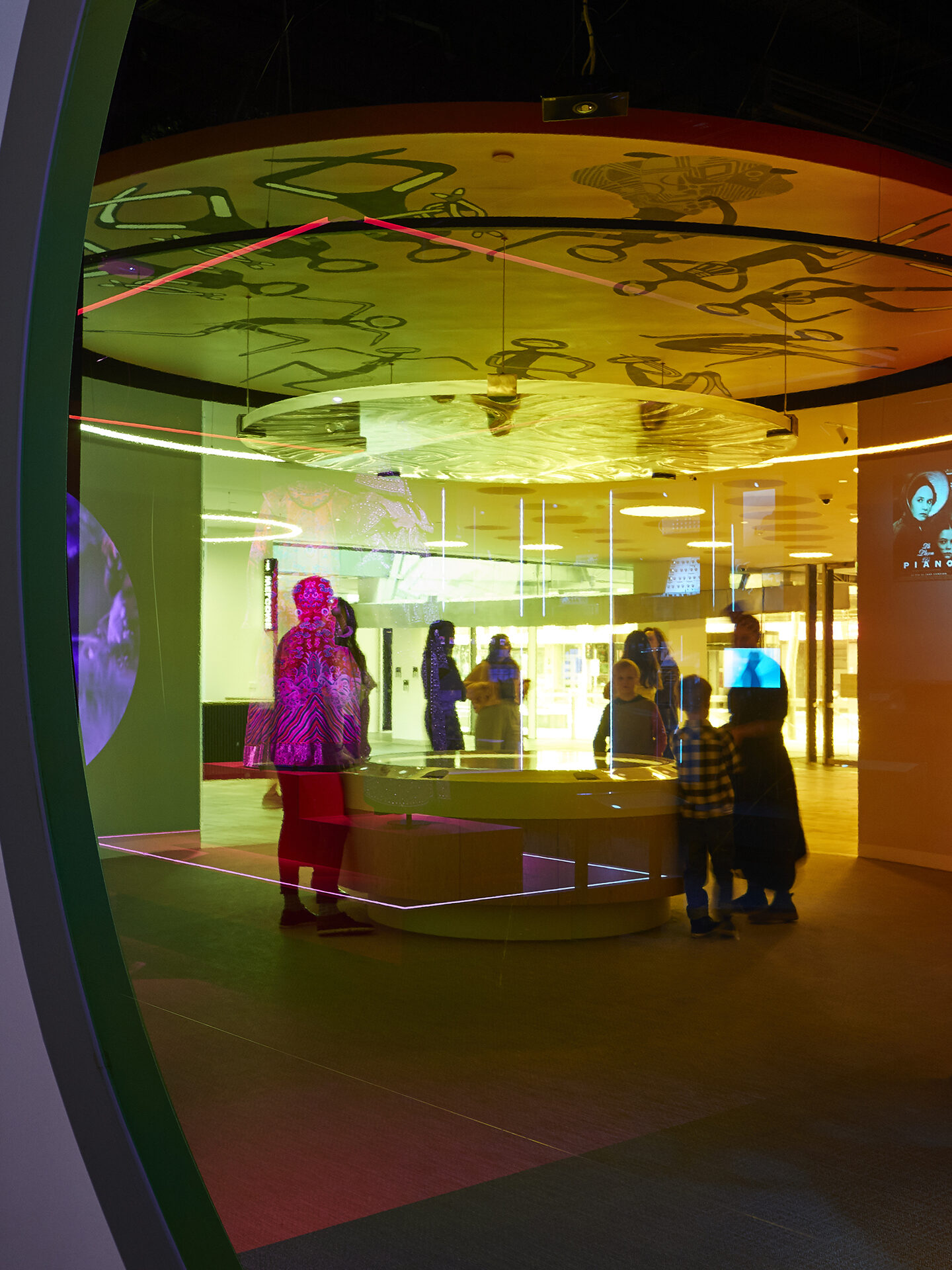 Project Details
Design Team
Katrina Sedgwick (creative director)
Graham Jephcott (project director)
Seb Chan (chief experience officer)
Chris Harris (design lead, director of exhibitions and touring),
Sarah Tutton (chief curator)
Sue Harrop (project manager)
Greg Turner (chief technology officer)
Lucie Patterson (head of experience, product & digital)
Melissa Gilmore (exhibition manager)
Evan Davies (technical project manager Second Story/Razorfish, USA exhibition and experience design)
Keri Elmsley (chief creative directors)
Joel Krieger (principal designer, experience & exhibition)
Chris Dewan (design director)
Chrystal Roggenkamp, Filipa Valente (senior environmental designer)
Mark Harris (creative technology lead)
Kate Farina (senior experience designer)
Kathryn Beane (storytelling and experience design)
Collaborators
BKK Architects (architectural and services support)
Ben Kreukniet of BK Studio, (lighting and audio design)
Arup (exhibition lighting and audio consultants)
Liquorice (post visit website design)
Qualia (graphic design support)
Arete (construction services)
Lumicom: (av integration services)
Art of Fact (museum master planning)
Sandpit (early concept design consultant)
ACMI, Second Story/Razorfish, Grumpy Sailor (concept, design, and production)
Studio MDHR, Canada (Content)
Megafun (design and production)
Graham McGuffie (model design),
Emily Boutard (model production)
Odd Studios (content)
More Studios (design and content)
Photo Credits
Shannon McGrath (photography)
ACMI (videography)
Open Date
November 2021