SEGD's New
Brand Identity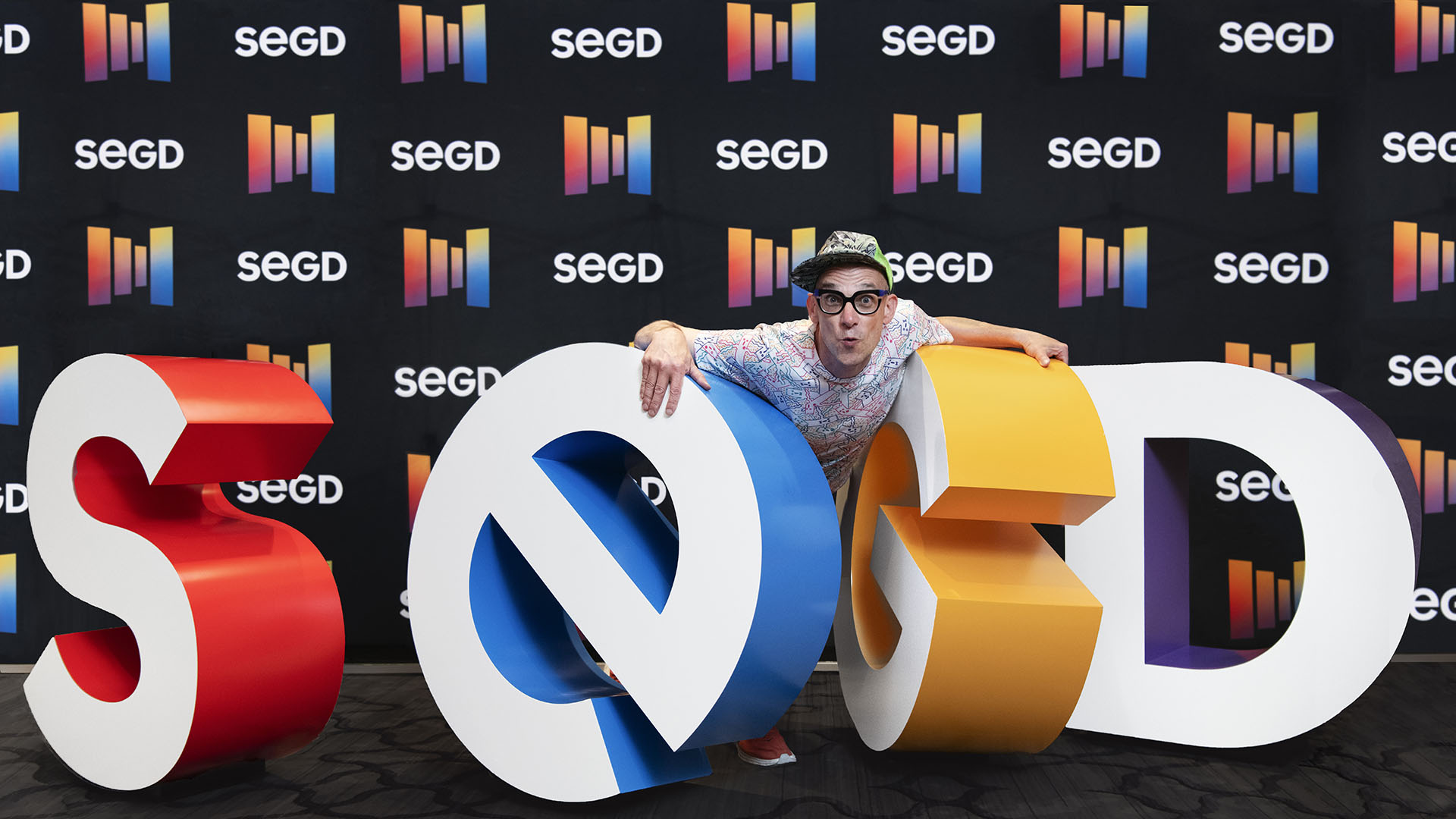 The Challenge
In August 2023, SEGD celebrated its 50th anniversary at its annual conference in Washington, DC. Pentagram's Michael Gericke and team developed the visual identity for the conference and anniversary. The team also designed an identity program for the SEGD that was launched at the conference, encompassing a new symbol, wordmark, signature color palette, website, and a graphic system for social media and publications.
Project Vision
The program included creating a distilled and defining message — "Designers of Experiences" — that is used through all communication materials.
Since its inception in 1973, the SEGD has been a leader and advocate in the development and recognition of human-centered design in the built environment. The society is international, spanning 46 chapters in seven regions and 10 countries throughout the world. This diverse membership shares a common motivation: to make the built environment more inclusive and intuitive, emotive and engaging, sustainable and shared.
Design + Execution
This welcoming spirit extends to the new identity, which uses bold shapes and bright color to create an engaging presence. The symbol updates the SEGD mark previously designed by Pentagram, which utilized two-dimensional graphic forms to represent the group's work in three-dimensional environments. The new symbol integrates a vivid spectrum of color to reflect the society's growing focus on experiential design

Project Details
Design Team
Pentagram
Michael Gericke
Marielle Gross
Melisa Ozkan
Catherine Chung
Migle Jankauskaite
Don Bilodeau
Nick Mucilli
Peter Huang
Collaborators
Wide Eye (website design and development)
Room for Magic (brand voice)
Traci Sym, plus & greater than (SEGD Brand Advisory Committee + SEGD Web Advisory Committee)
Michael Gericke, Pentagram (SEGD Brand Advisory Committee)
Aki Carpenter, Ralph Applebaum Associates (SEGD Brand Advisory Committee)
Bosco Hernández, San Francisco Museum of Modern Art (SEGD Brand Advisory Committee)
Kirsten Southwell, Accenture Song (SEGD Web Advisory Committee)
Sara Pasch, Obama Foundation (SEGD Web Advisory Committee)
Phillip Tiongson, Potion (SEGD Web Advisory Committee)
James Heredia (motion development)
Photo Lab Inc. (PLI) (Conference Wayfinding Signage Suppliers and Printers)
Gable Signs (Dimensional Letter Signage Fabrication)
Ashton Design (Conference Wayfinding Signage Design Implementation)
James Hallock (SEGD Merch Design)
Jacob Goble, Media Objectives (SEGD Merch Design)
Photo Credits
Martin Seck Photography
Open Date
August 23, 2023