Reflections on Grief and
Child Loss
When Abraham and Mary Lincoln's son, Willie, died at 11 years old in February 1862, they moved to the Cottage at the Soldiers' Home, eager for solace and a place to grieve their loss. The stigma of grief transcends time and place as families continue to struggle under the societal pressures of mourning the death of children in modern society.
The Challenge
President Lincoln's Cottage uses the lens of the Lincoln family's time at the cottage as an entry point for learners of all ages to develop their own tools, skills and language to more successfully face the complex issues of today. This exhibit would strive to destigmatize the grief around child loss by acknowledging the need for and establishing a language to validate this type of grief in contemporary society, providing a safe and supportive place for parents who have lost a child to share their experience and for visitors to better understand the pressures levied against grieving parents.
Project Vision
As part of the exhibit development process, Howard+Revis Design worked directly with nine families who were willing to share their reflections on different facets of grief. The team developed a questionnaire for the families to fill out, worked with family members to select meaningful quotes and photos to be included in the exhibit, and shared design mock- ups at each stage of the process to ensure that they were comfortable with the way that their story was being shared.
Design + Execution
The willow tree at the center of the exhibit provides a place for grievers to share the names and memories of those for whom they grieve by writing a personal message on the vellum leaves. For those desperate to support someone in their life who is grieving, the takeaway cards at the end of the exhibit with suggestions for sitting for someone in their grief may be the most meaningful. The photographs of all the children shared by the participating parents speak to all, affirming the power of love.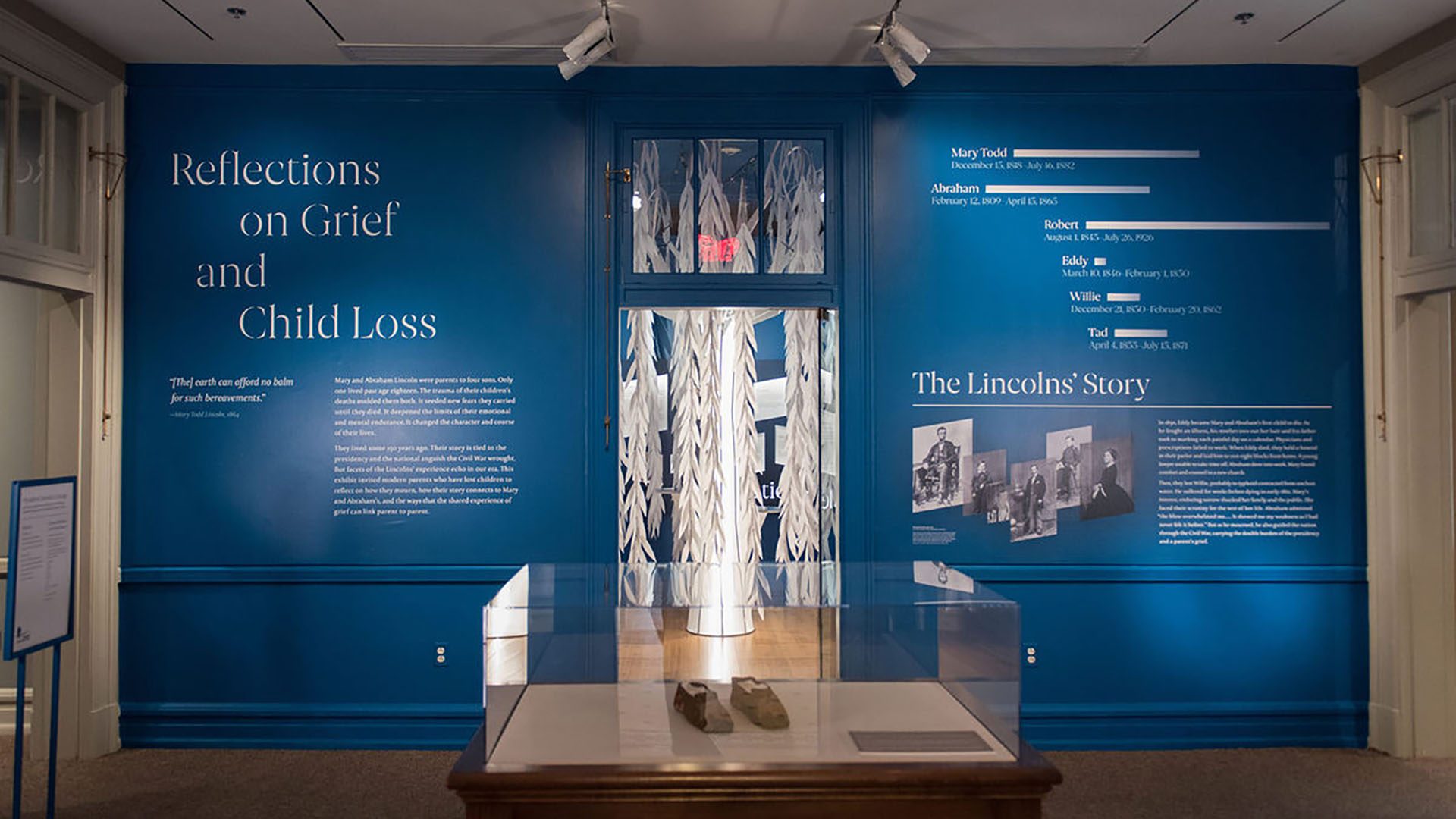 Project Details
Design Team
Jeff Howard (senior design director)
Elizabeth Eubank (senior exhibit developer, writer)
Nina Reck (creative director, senior graphic designer)
Lori Choi (senior exhibit designer)
Collaborators
Kearney & Associates (exhibit fabrication)
CSI Printing & Graphics (graphic production)
Photo Credits
Chris Ferenzi Photography (photography)
President Lincoln's Cottage (photography)
Open Date
December 2020