Northern Beaches Hospital
The new Northern Beaches Hospital, a brand new, purpose-built facility, was designed by BVN and opened in 2018. This $840 million project of a 488-bed public and private hospital required every aspect of signage for the hospital interiors, external precinct and separate multi-level car park, consisting of over 6,000 signs and 300 wall graphics across eight levels.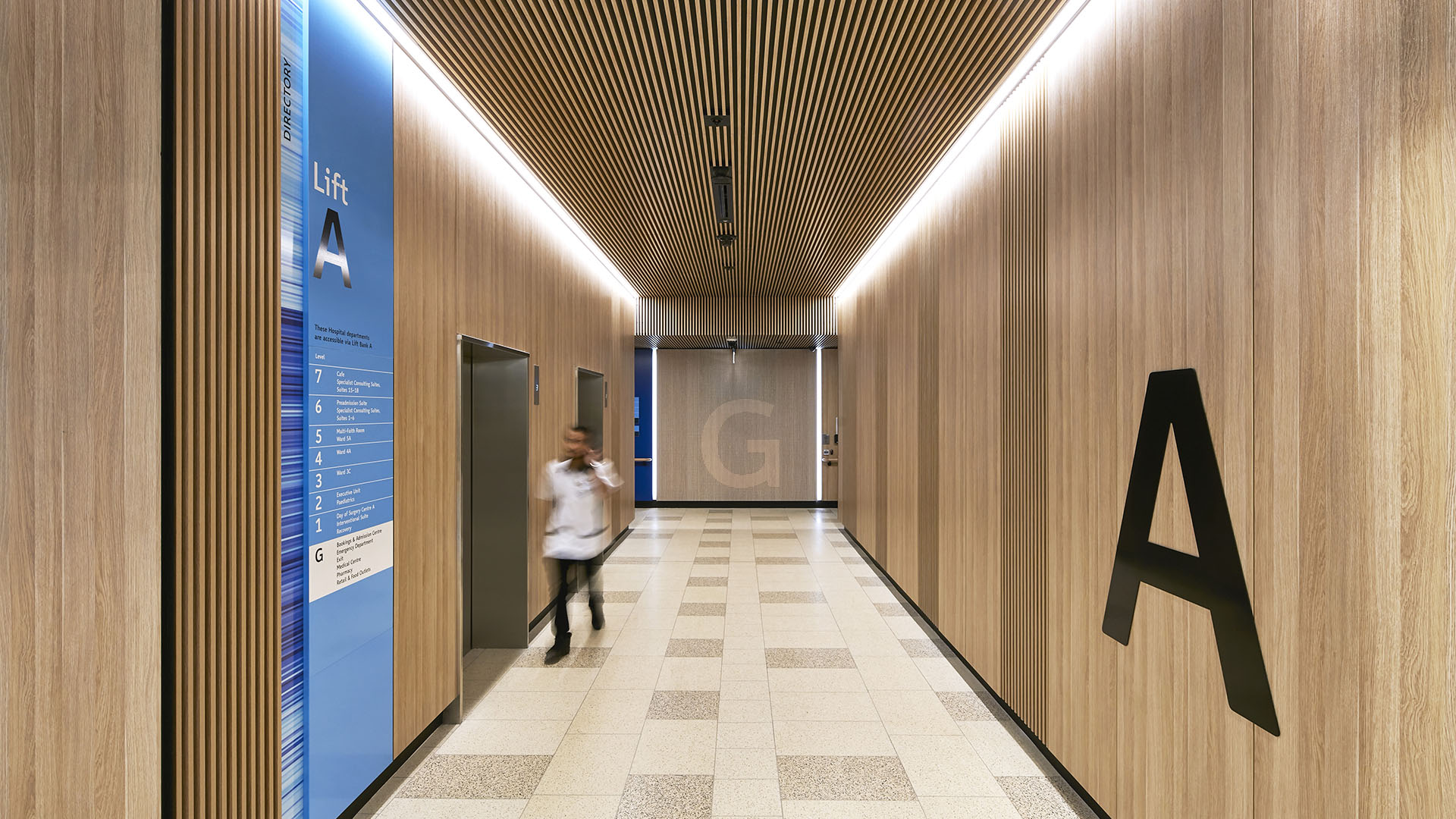 The Challenge
A key objective of the system was to quickly and efficiently get patients and visitors to their destinations with minimal confusion or anxiety. Additionally, the team needed to discreetly delineate the private and public parts of the hospital without blatantly labeling each area.
Project Vision
The involvement of the community through the collaboration with local photographers and schools has resulted in a hospital that is already part of the community in a space they helped to design. The combination of location-specific environmental graphics along with the colored sign-forms resulted in a unique and place-sensitive scheme that truly celebrates the location and character of the hospital's area.
Design + Execution
Taking inspiration from the location of the hospital, the team visited the site surrounds, ranging from dense bushland to sandy beaches. Unique items translated into blue and green colorways, where the large-scale placemaking graphics help to intuitively indicate levels of the hospital. Patient and visitor signage also took on these colours, while staff and back-of-house signage was purposely given a distinctive charcoal color. Over 300 graphics are located throughout the space at key decision and destination points, with the feature graphic spanning six levels in the central atrium space. Working with a local photographer and an adjacent Northern Beaches primary school photography competition, the team created two atrium super graphics as main orientation points.
Signage throughout the external precinct and multi-story carpark drew upon the same design language, only using differing wayfinding strategies to address the unique challenges for each of these spaces' functions. Graphics were designed to calm patients and activate interest in certain long corridors and areas. The team sourced unique items from site surrounds, which formed the themes delineating the hospital's private and public areas. The vast scale of the project and the multiple ways the wayfinding system is applied ensures that this scheme is more than just a successful wayfinding system, it is a celebration of the project and the Northern Beaches.

Project Details
Design Team
Carlo Giannasca (design director)
Adam Longo (design manager & strategy)
Muriel Ricafrente
Henry Ellis-Paul (senior designer)
Sophia Noh
Yvonne Tong (designer)
Collaborators
Central Signs (signage manufacturing and installation)
Scaffad (large atrium artwork graphic manufacturing and installation)
Photo Credits
Toby Peet (photography)
Open Date
October 2018