Learning Lab
River Connections is a bespoke, immersive film that submerges students in First Peoples' perspectives of the Australian landscape and its psyche. Made in collaboration with First Peoples elders and artists. The film was developed through deep listening sessions and visiting 'Country'.
The Challenge
The team was tasked to create an innovative and inspiring education space that connects the Museum's experiences and stories with digital technologies and 21st-century learning. The challenge was to create a media work that immerses students in deep listening at the beginning of each workshop, mentally and emotionally preparing them for the creative program ahead, while simultaneously inviting them to engage with concepts of sustainability.
Project Vision
The Learning Lab embodies the amplification of learning in museums as it connects museum collections and stories, co-creative digital technologies and a philosophy that is underpinned by First Peoples concepts of deep listening. The flagship experience of River Connections central theme is the connection of all things – a concept that our First Peoples elders and artists regularly brought to the surface. This motif is visualized with flowing lines that depict ever-changing subjects morphing from one form into another.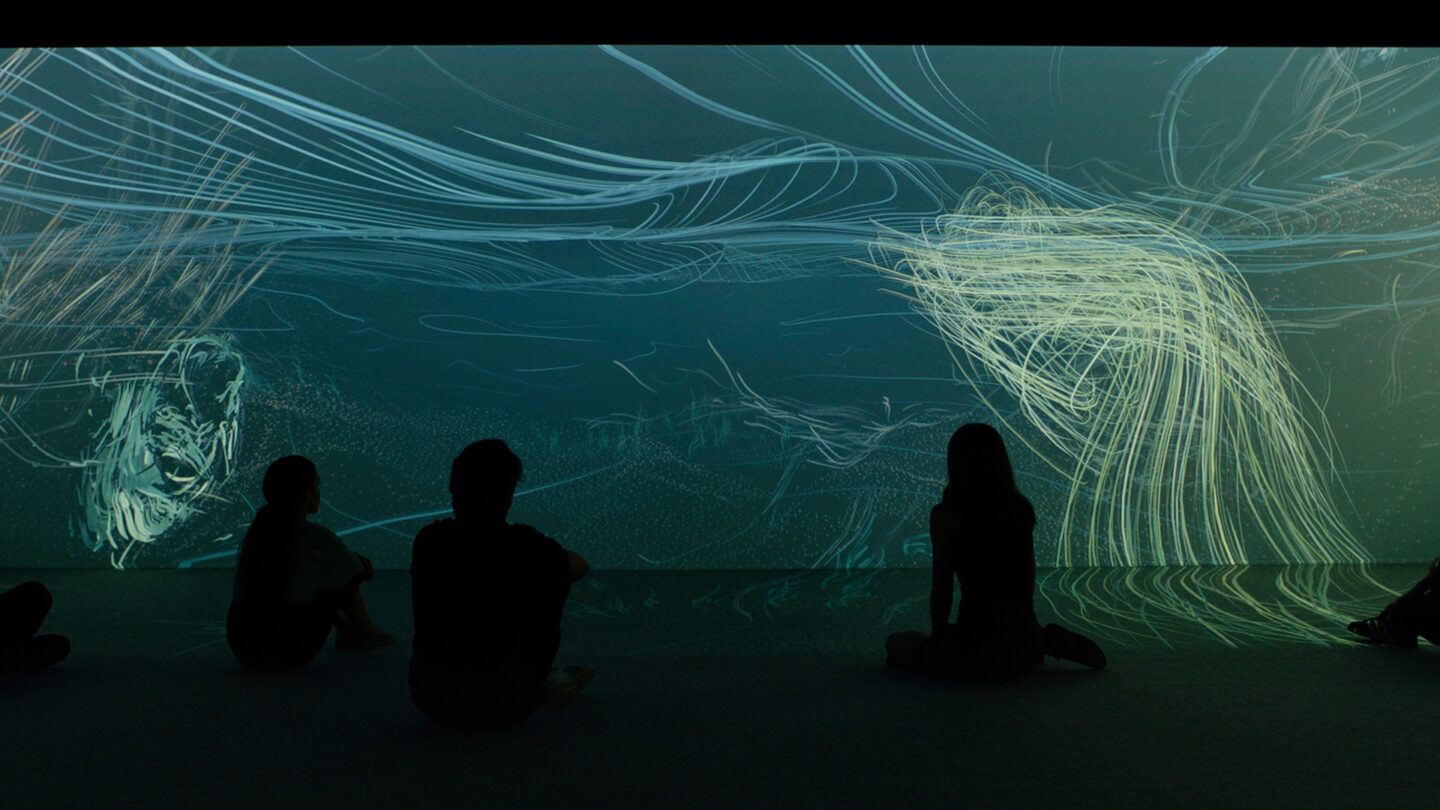 Design + Execution
Great care was taken to ensure the work is a reflection of the lands it depicts. The film's subjects were modeled on photographs captured on Country, while the colours of the lines and points were sampled directly from the recorded pixels. Likewise, the ambisonic sound recordings that feature in the film were also captured on Country, creating a work that feels distinctly 'of place'.

Project Details
Design Team
James Boyce (ceo/ecd)
Mike Daly (creative director)
Tom Siddall (technical director)
Mauricio Massaia (senior software developer)
Matt Roberts (project manager)
Collaborators
Denton Corker Marshall (architect)
Matt Tillman (3d animator)
Brendan Woithe (sound designer & music composer)
Aunty Esther Kirby, Uncle Brendan Kennedy, Uncle Larry Walsh, Genevieve Grieves (first peoples advisory group)
Photo Credits
Grumpy Sailor Creative
Open Date
January 2020