Lavazza Casa 1895
Located in Settimo Torinese, this 1960s factory building was renovated to create an advanced new factory dedicated primarily to the production of Lavazza's specialty 1895 coffee. Visitors experience the multi-sensory process of coffee design, from the origins of coffee beans to the process of transforming beans into the perfect cup and finally, to the experience of tasting the quality coffee.
The Challenge
The main focus of interpretation needed to be for the most knowledgeable of the three target audience groups, as they represent the core audience for the experience. So primary interpretation could not be overly simplified, especially in explaining the coffee production process itself, as passionate visitors are already deeply familiar with it. At the same time, the enthusiastic but less knowledgeable audience could not be alienated with too much technical detail, as we needed to help them build their knowledge of coffee production, tasting and flavors.
Project Vision
The Lavazza 1895 coffee factory is located in Settimo Torinese, Italy. The 1960s factory building was renovated and redeveloped in 2019 to create an advanced new factory dedicated primarily to the production of 1895 coffee. The Casa 1895 visitor experience was developed in tandem with the architectural refurbishment of the building, and the design of the factory, so the visitor experience is truly integrated into the workings of this new factory environment.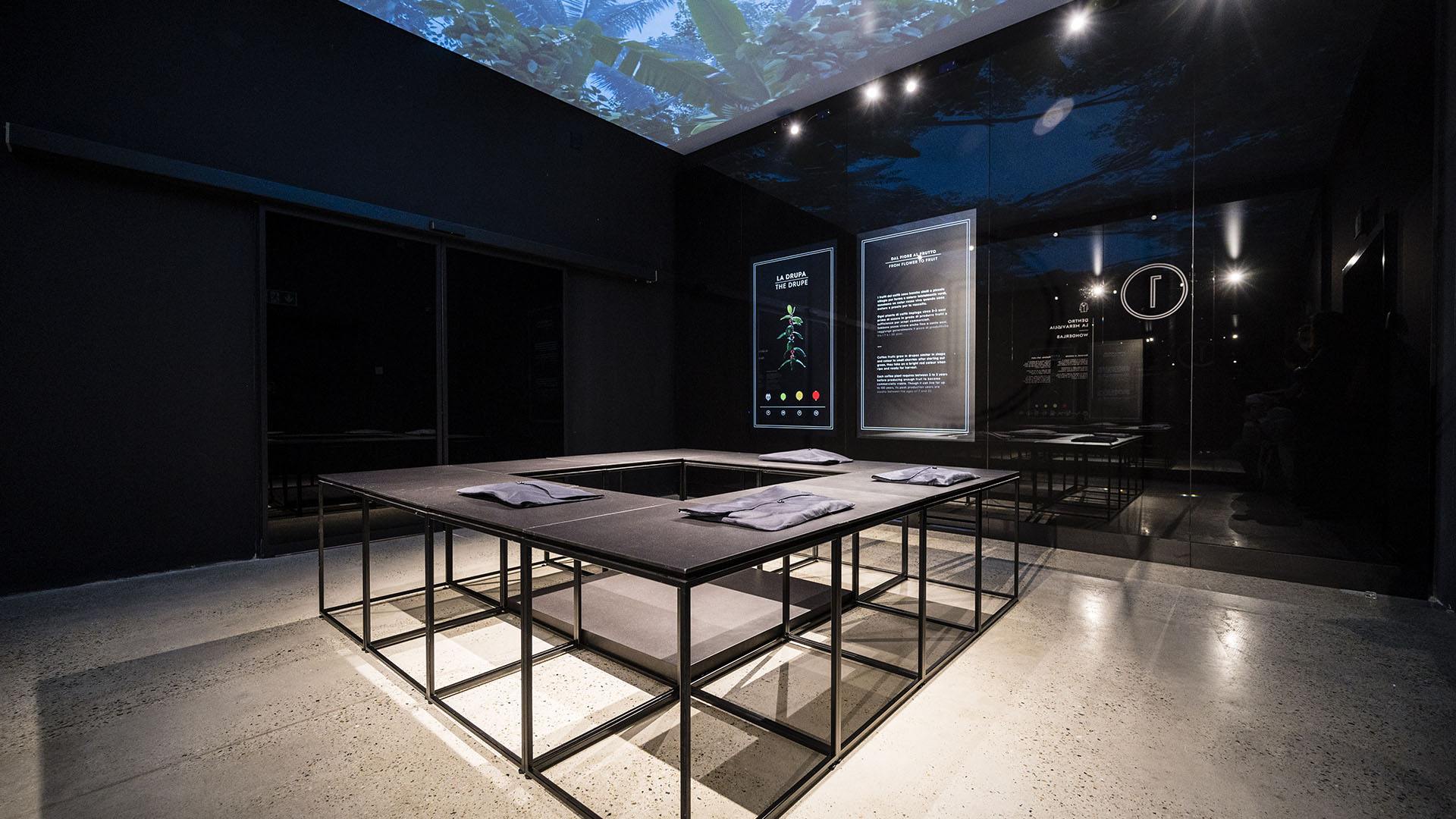 Design + Execution
The 1895 brand approach is based on authenticity and honesty: rather than pretending to be a small-scale crafted brand, 1895 embraces the incredible quality that can be achieved by bringing the heritage, expertise, innovation and resources of a major international brand to develop a premium product. Closely aligned to the 1895 brand identity, the design for the Casa 1895 visitor experience established the brand's experiential design language. The design blends together two things: the authentic industrial character of the real working factory with the elegant contemporary look and feel of the 1895 brand. The design makes a clear experiential distinction between the visitor experiences that were beyond the factory and those that were embedded in the factory environment.

Project Details
Design Team
Phillip Tefft (project director)
Mirko Cerami (project leader)
Tracey Taylor (content developer)
Mat Mason (director of graphics)
Mina Demiren (graphic designer)
Charlotte Stevens (content developer)
Alice Barsottini (3D designer)
Collaborators
Paolo Uboldi Architects (architects)
Binario (audio-visual integration)
Karmachina (interactive media)
Strosselli (lighting)
Photo Credits
Andrea Guermani (photography)
Filippo Marta (photography)
Open Date
October 2020