Johnnie Walker
Princes Street
Set within an Edinburgh landmark transformed, offering eight floors filled with breath-taking experiences, bars, event spaces, and views, Johnnie Walker Princes Street stands at the heart of Diageo's £185million investment in whisky tourism in Scotland. Johnnie Walker Princes Street is targeted to visitors no matter where they are on their whisky journey, from the curious to the connoisseur.
The Challenge
To celebrate Johnnie Walker's 200th anniversary, Diageo made an unprecedented £185 million investment in whisky tourism across Scotland. The project's core investments are the flagship Johnnie Walker Princes Street and the 'Four Corners' single malt distilleries crucial to making Johnnie Walker: Cardhu, Clynelish, Glenkinchie, and Caol Ila.
Diageo sought to transform their existing Distillery Visitor Centres from production tours into Brand Homes that offer a sense of welcome, hospitality, joy, and connection for a new generation of whisky drinkers.
Objectives included introducing a more contemporary identity for the Johnnie Walker brand and to transform the traditional image of Scotch as an exclusive spirit into a flavourful, accessible drink for anyone to enjoy, any way they wish. Another main objective was to create a lasting emotional bond between visitors and the brand and to cement Johnnie Walker's legacy as the most desired, most enjoyed and most talked about whisky in the world.
Project Vision
Johnnie Walker Princes Street takes visitors on a journey of discovery, where they learn more about whisky flavour creation, Scotland, and themselves. There are experiences that are visual, immersive, and story-rich, there is the rare opportunity to taste whisky directly from the barrels in a live maturation warehouse, and to examine historical documents from 1820 at the side of the Johnnie Walker archivist.
The main experience, the 90-minute Johnnie Walker Journey of Flavour tour, is brought to life by exceptional guides, using technology and performance arts. On arrival, guests engage with Diageo's FlavourPrint™ technology, which uses artificial intelligence to personalise each guest's flavour profile. Guests explore the brand story and process in ways that awakens their senses, then taste the whisky in a variety of ways to discover just how enjoyable whisky can be and how it fits many occasions.
Targeted to international and domestic tourists, and the local community, Johnnie Walker Princes Street is for visitors no matter where they are on their whisky journey, from the curious to the connoisseur.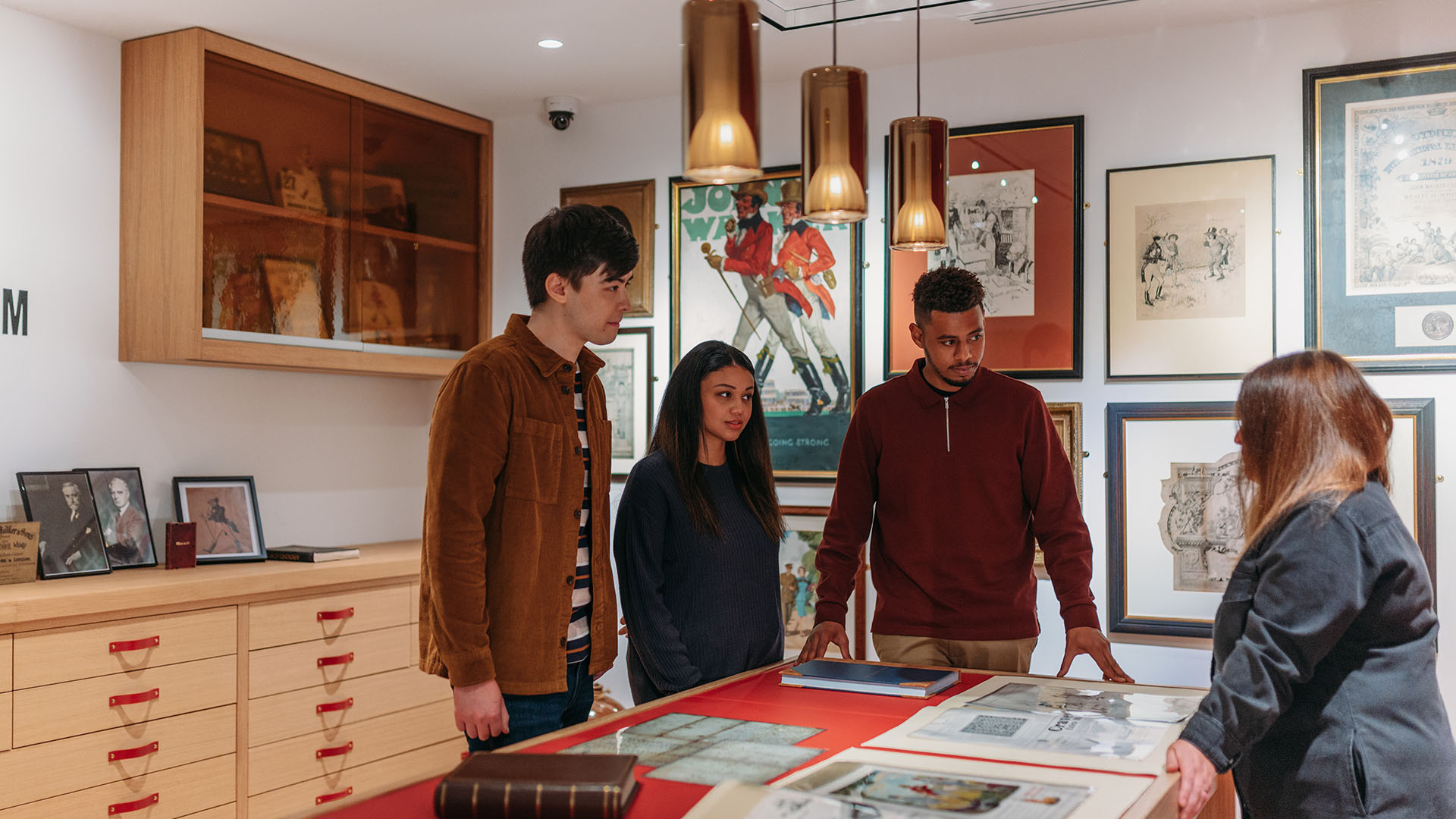 Design + Execution
Spanning eight floors and 71,500 sqft, Johnnie Walker Princes Street first welcomed consumers to come walk with it in September 2021 and now welcomes hundreds of thousands of visitors annually.
The Covid-19 pandemic posed considerable challenges but in the face of them, the team marched on. Agility in the team's thinking and practices included the prioritisation of spaces that allowed for safe social distancing practices, and digital work streams for creative direction and approvals of show elements and live action.
The creative team drew upon the extensive Diageo archives, whisky historians and makers, and members of the community for brand stories and artefacts. The team also commissioned Scottish artists and craftspeople to create works of art throughout, reinforcing the vitality of the Scottish brand.
In order to meet substantial operational demands, the building was designed with two identical floors and four identical tasting rooms. This allows brand ambassadors to keep tours small and intimate while still accommodating the large numbers of guests required for throughput.
For a personalized guest experience, innovations included a series of custom-made dispensing systems that serve guests on the main tour experience the perfect pour, customized to their personal tastes. With over 800 flavour combinations available, one could visit Johnnie Walker Princes Street every day for more than two years and have a unique experience every time. These unique dispense systems also remove the need for single-use bottles, saving over 40,000 glass bottles per year.
Despite opening under the current Covid restrictions, Johnnie Walker Princes Street is a tremendous success. Tour reservations have been consistently filled since opening and per cap spending among visitors to the whiskey experience is up significantly. The opening received 2,070 pieces of media coverage and over 3B impressions across online, broadcast, newswire, and print. The team has welcomed many esteemed visitors, including His Royal Highness The Prince Charles, Duke of Rothesay.
Finally, the Brand Home was awarded Scotland's most prestigious Green Tourism Gold award and received a rare 5-star gold review from Euan's Guide.

Project Details
Design Team
Christian Lachel (creative director)
Carmel Lewis (executive producer)
Donna Davidson (executive project director)
Cathrin Winsor (producer & project manager)
Alicia Hungerford (creative producer)
Tim Brown (technical director)
Alyssa Damminger (design manager)
Stephen Strosin (media director & producer)
Bernard Semerdjian (production art director)
Victoria Meadows (associate producer)
Mikey Reyes (art director & environmental designer)
Carolyn Leach (writing & story development)
Jennifer Jansen (production coordinator)
Manny Treeson (lighting designer)
Scott Ellerbrook, Justin Owades (media editor)
J. Nathan Evans, Linus Gruszewski, Karolina Rojahn, Alexandru Aski (show set design)
Belle Shang, Francois Aubret, Caity Watson, Apurv Anirddh (environmental design)
Amir Tarazkar (environmental graphic design)
John King (concept art director)
Lisa Nguyen (concept artist)
Anthony Onibon (concept planning)
Steve Chon (experience storyboards)
Emma Wood, Madison Girifalco, Anne McNeal (graphic design)
Ken Culver (media coordinator)
Rachael Hinman (project coordinator)
Cara Pico (design studio director)
Jack Tippler (studio manager)
Philipp Edelmann (producer, concept & design)
Doug Sarver (finance manager)
Bob Rogers (founder & ceo)
Collaborators
Simpson and Brown (architecture, historical renovation, and planning development)
Michael Laird Architects (architecture and interior support)
Dalziel and Pow (retail design)
BAM (main contractor)
Harley Haddow (m&e engineering)
Lesley Morisetti (feasibility consulting)
Morham + Brotchie (quantity surveyor)
Faithful + Gould (workstream management)
MR-ProFun (operations consulting)
Euan's Guide (accessibility consultant)
Turley (economic and development consulting)
TechMD (audio, video and show design)
White Light (audio, video, and show integration)
Kneupper Music (original music)
Ears Up (audio mix and sound design)
DB Show Control & Automation (show control programming)
Henchmen, Eyebolls and Dandelion Burdock (media development and production)
NYXdesign (lighting design)
Clearwing Systems Integration (lighting system design)
White Light (lighting integration)
Jason Baker, Nineyards, Stage One, The Deluxe Group (scenic fabrication)
Circle Square (retail fabrication)
EPH Studios (scenic fabrication, striding men)
Benholm Group (scenic fabrication, landscape ceiling)
Click Netherfield (archival casework)
Hodges & Drake, Spirits Supply Team (bespoke beverage serving system)
ScoMac (food & beverage design and equipment)
Elior (food and beverage provider)
Sweet & Chilli (serve strategy)
Crucible (cocktail class concept)
Drinksology with BRC (bar concept)
Pencil and Paper (retail merchandising)
Source Developments (furniture procurement)
Wild VC (graphics production)
Aroma Academy (scent design)
Gavin Scott, Melissa White, Scott Naismith, Chalk Plaster (featured artists)
Photo Credits
BRC Imagination Arts
Open Date
September 2021