The Incas, Treasures
of Peru
From prehistory to the contemporary era, the museum invites the public to explore the captivating world of ancient cultures of Peru through the Inca civilization renowned for rich culture, craftsmanship, and unique weaving patterns.
The Challenge
At the end of the exhibition, the client desired an immersive and fun experience where the visitor could enjoy a visual feast and reflect on the exhibition.
In this final experience before leaving the exhibition—Weaving Time—visitors are wrapped in fabric one last time, only this time they are invited to be creative and can weave it, immersing themselves in a world of patterns. The visitor can "weave" lines of patterns in the tapestry that wraps around the space from a table that fits 10 pattern tiles in a row, with a shuttle that slides along it, and a tray that holds 80 different pattern tiles to choose from. The projection from above and behind the tile area, shows the most recently woven patterns and continues on the wall where an interactive projection fills the room with the tapestry.
Project Vision
The visitor selects tiles and pieces them together in a row, then by sliding the shuttle to the other side of the table, that specific line of patterns is added to the tapestry.
Every time a pattern is added, the tapestry throughout the whole room shifts, resembling real fabric waving in the wind. It is a simple and playful finale where visitors can express their own creativity within the realm of the Incas.
Design + Execution
The patterns can be playfully arranged like a simple puzzle, and added to the fabric using the shuttle. The use of the shuttle and the creation of a line of patterns are directly translated from how a weaving loom operates.
The weaving results in a seemingly endless fabric that is projected around the room. Every time one line of patterns is added to the fabric, all the patterns shift one row. What the visitor is puzzling together is affecting the whole room. As different visitors use the loom, the creation of the fabric that wraps around the room becomes a collective work. The look and feel of the fabric is dynamically animated, resembling real fabric waving in the wind.
Weaving Time was a success for the museum, with the client noting that, "Almost all visitors play with it. Kids need to be pulled away by their parents and adults become kids in front of it. We are breaking records for a winter exhibition with this installation."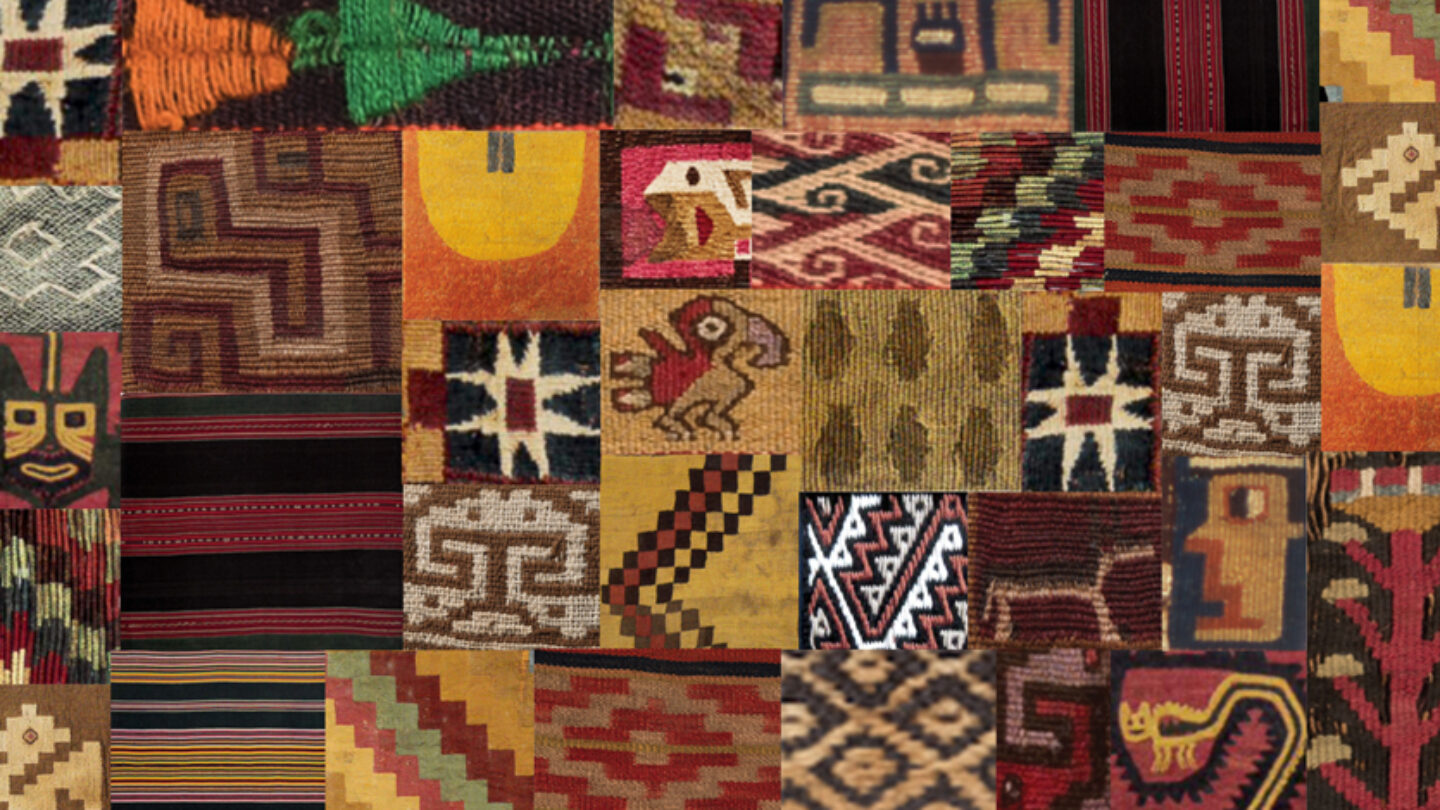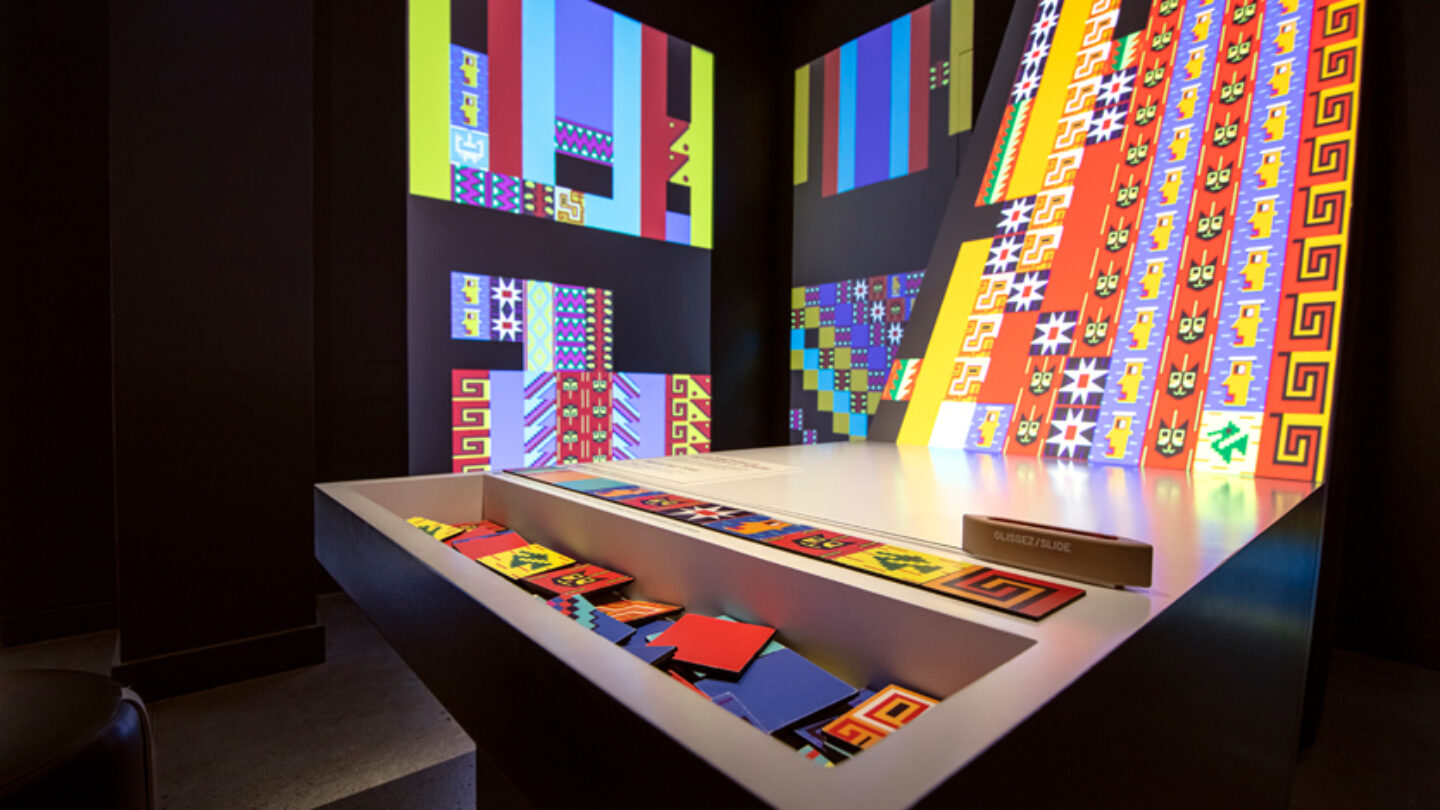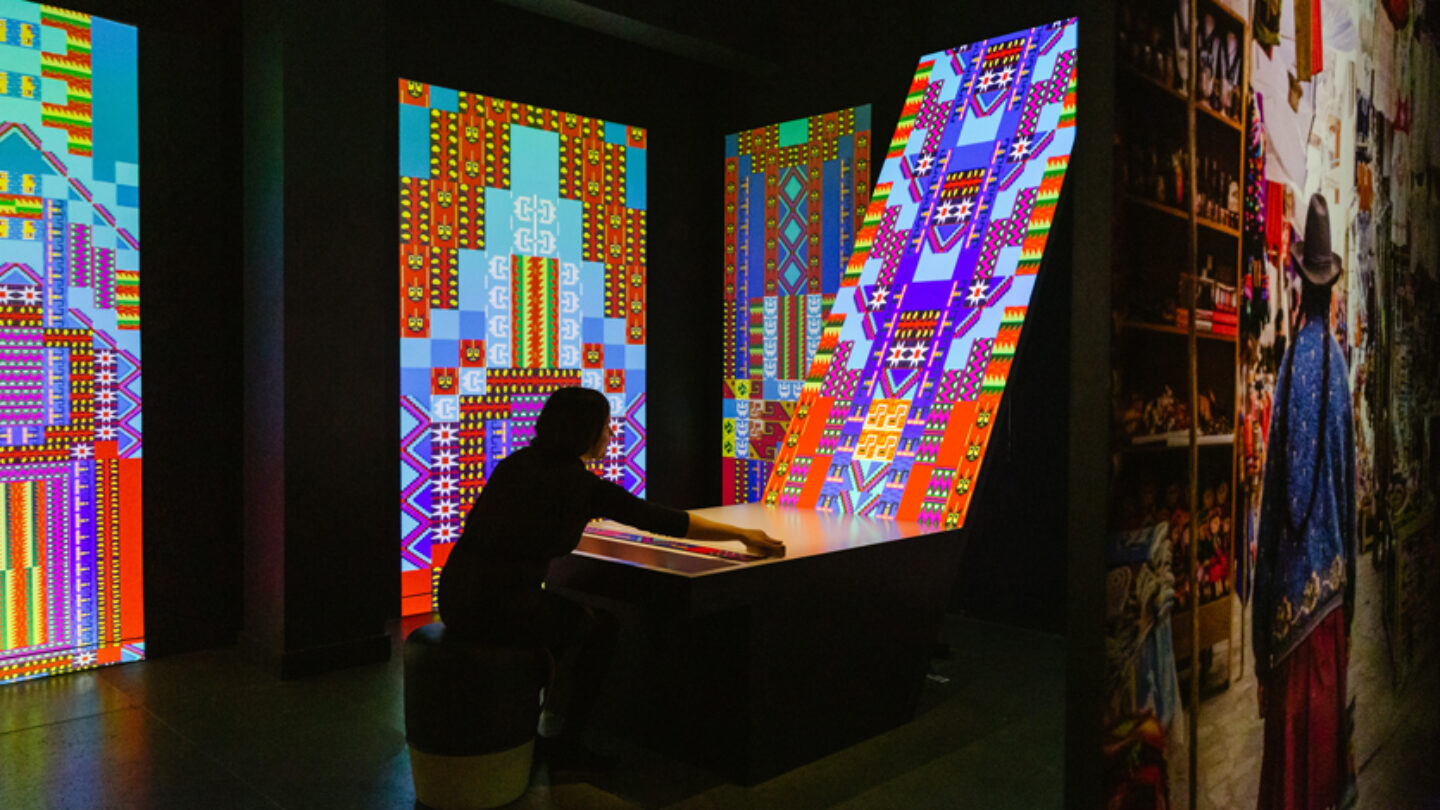 Project Details
Design Team
Briet Friobjornsdottir (project manager)
Samuel Horodal Jonsson (software developer, technical design)
Lemke Meijer (interaction design, graphic design, concept design)
Marel Helgason (electrical engineer)
Nils Wiberg (concept design)
Photo Credits
Gagarin, Entro, Nicolas Gouin, Caroline Thibault (photography)
Goba Studio (videography)
Consultants
Entro
Light Factor (lighting design)
Fabricator
Expozone
Open Date
November 2020