Far Out: Suits, Habs, and Labs for
Outer Space
Far Out: Suits, Habs, and Labs for Outer Space celebrated visionary ideas and ingenious solutions from architects, artists, and designers who dared to imagine life far out among the stars.
The Challenge
This exhibition presented an array of objects—space suits, models, ephemera, and drawings alongside a selection of film excerpts. The project scope covered exhibition layout and experience, including: layout of over 50 art objects, ephemera, and models; construction of a central pedestal; 15 custom and interior-lit wall vitrines; three-dimensional acrylic letters for large title wall; vinyl introduction text; 31 ink transfer and cut vinyl labels.
The primary design challenge was creating an engaging and dramatic environment to exhibit art and objects of varied types while providing an immersive and futuristic setting.
By converting half of the gallery to a semicircular shape the team could display the objects in a more engaging and immersive manner. The central pedestal served as the nucleus for the exhibition, displaying some of the most iconic works in an unexpected way.
Project Vision
The typography of the title wall emphasized the themes of the exhibition and were installed to give the impression that they were floating just above the surface of the wall.
Vitrines were designed to also appear as if they were floating off the wall. The lighting design of the gallery was unique in that it relied on an overall dimly lit space with a spotlit center pedestal, internally lit wall vitrines, and LED strips in the baseboards.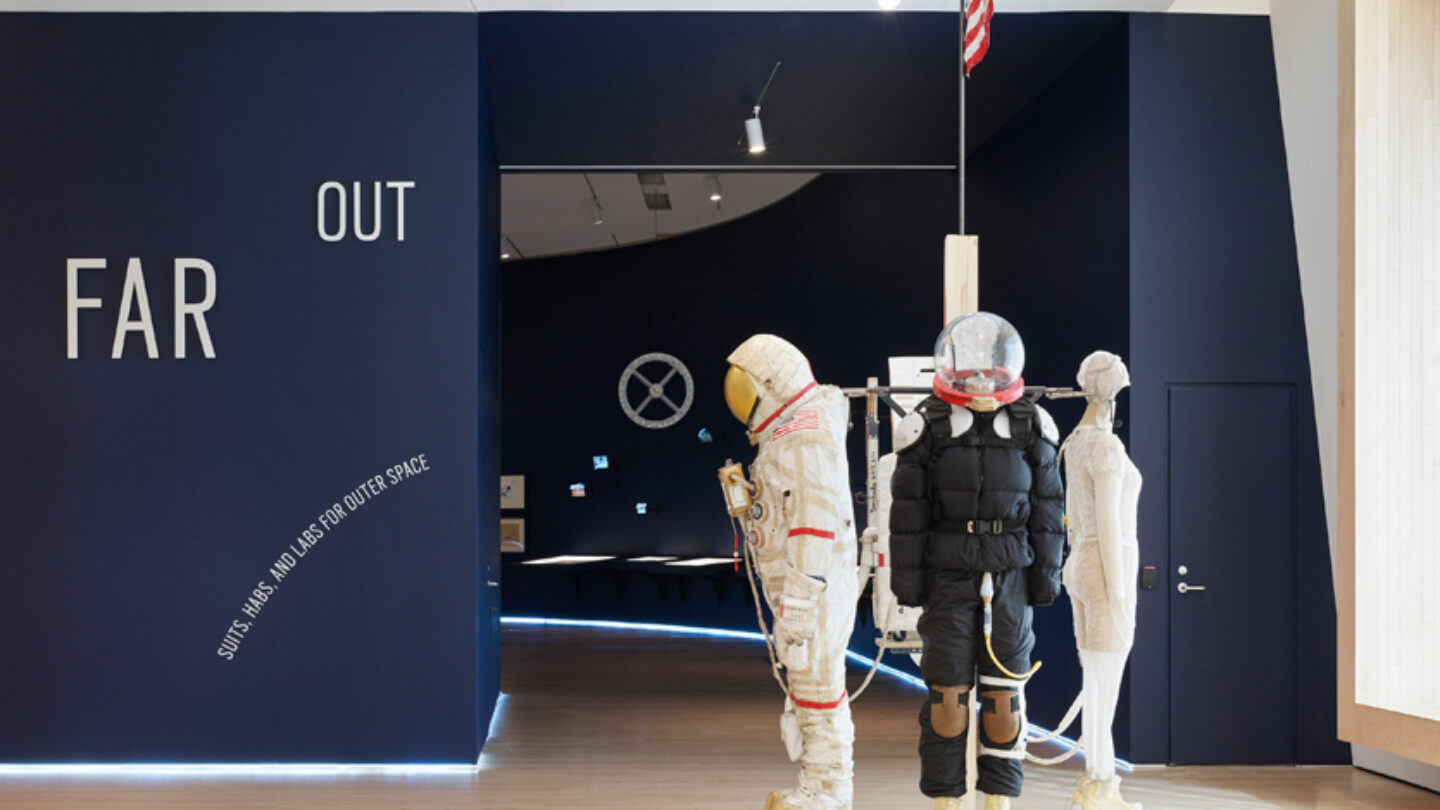 Design + Fabrication
The low-lighted gallery was transformed into a nearly semicircular shape, lined with "control center" cases and a constellation of differently sized small monitors.
LED strips in the baseboards along the curvature of the gallery, enhanced the feeling of a planetary horizon and the hanging models floated against the midnight blue of the walls. These design decisions converged to give visitors the feeling of being in outer space.
The exhibition received considerable and positive press coverage. The curved, midnight blue walls, dotted with a constellation of monitors proved to be an immersive experience for visitors, and added to SFMOMA's library of solutions for how to approach design of Architecture + Design exhibitions, whose concepts and objects are different from the others shown within the museum.
Project Details
Design Team
Sun Duck Oh (senior designer)
Meghan Berckes (art director)
Sarah Choi (exhibition designer)
Laura Santizo (design project coordinator
Michelle Thomas (design project manager)
Consultants
Joseph Becker (associate curator of architecture and design, exhibition co-curator)
Jennifer Dunlop Fletcher (Helen Hilton Raiser curator of architecture and design, exhibition co-curator)
Aviva Rubin (exhibition design consultant)
Kurt Pelzer (research assistant)
America Castillo (administrative assistant)
Jessica Woznak (director of exhibitions)
David Funk (exhibitions manager)
Brandon Larson (installation manager)
Joshua Pieper (fabrication shop supervisor)
Melody Kozma-Kennedy (senior preparator, fabrication shop)
Samantha Visbal, Jamie Banes (museum preparator iis, fabrication shop)
Jess Kreglow, Alexander Cheves (senior museum preparators)
Steve Dye (exhibitions technical manager)
Fabricators
Lahue & Associates
Mike Williams (drywall construction)
Jonathan Hirabayashi Design (vinyl fabrication and installation)
Cliff Digital (ink transfer fabrication)
Jon Haller (painting)
Photo Credit
Matthew Millman
Open Date
July 2019