Downey City Library
The Downey City Library has been a neighborhood landmark for more than 100 years. Over time the facility has evolved into a multi-faceted social hub and learning space. In 2016, Downey voted to fund the renovation of several civic buildings, including the library. This presented an opportunity to create a considered, inviting, energized space to match the library's vital role in the community.
The Challenge
The team's overarching goal was to create an inclusive facility that would support contemporary learning and evolving technologies. All spaces had to be flexible, functional and inspiring. The design for the space needed to align with a bold vision of what it means to learn, grow, and connect in the 21st century.
Project Vision
The library is future-focused, organized, and abundant. It accommodates quiet moments of reading alongside joyous collaboration. It provides tools for adventurous experimentation while also serving as a steady, reliable community resource. This mixture of clarity and richness exists throughout the space. Color serves as a significant clarifying presence, creating well-defined areas for specific purposes. The color transitions from one location to another within the flooring allow for lively moments of transition from one space to the next. Signage for each area uses large, bold typography.
Design + Execution
Many interior details take cues from the plants and environment outside the library building. The main wayfinding in the lobby is a custom aluminum tree sculpture with radiating branches. The exterior aluminum panel mural shimmers with a custom triangular design that mimics the sunlight filtered through the nearby leaves. The carpet patterns evoke the multi-faceted color of leaves and grass on the ground. The mural in the green Children's area takes advantage of the long, vertical windows and feels like enchanting streams of light beams through a forest. The ceiling treatment in the blue area picks up on hues of blue and white from the open Downey sky.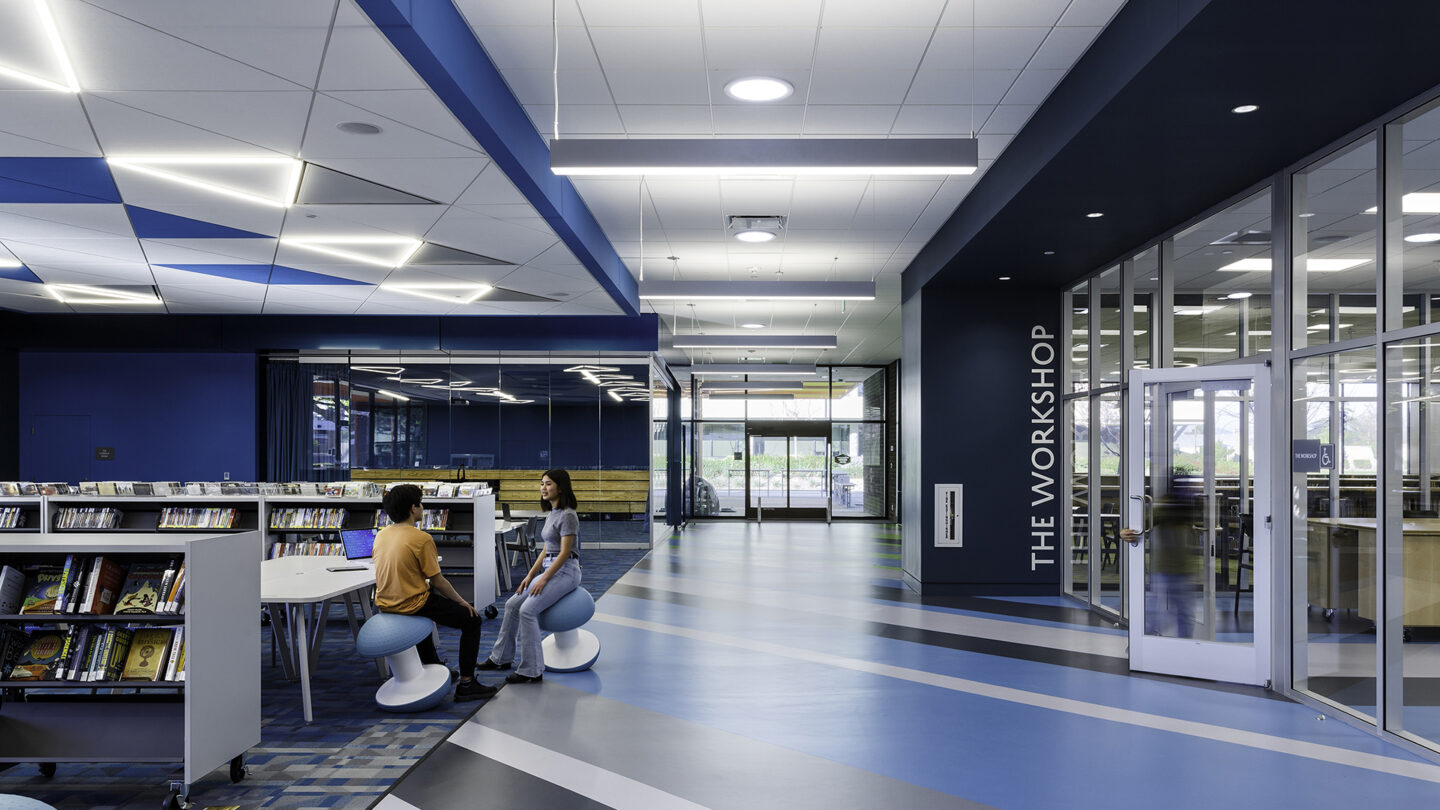 Project Details
Design Team
Handbuilt Studio, Juliette Bellocq, Brooke Irish, Yuju Yeo (environmental & graphic design)
NAC Architecture, Louise Griffin (project manager)
Helena Jubany (principal in charge)
Micheal Pinto (design principal)
anica Baker (project architect)
Jamie Lee (job captain)
Peng Tianxiao (designer)
Collaborators
Sign Pro, The SH Group (physical fabrication)
NAC Architecture (architecture, planning)
Photo Credits
NAC Architecture
Nicolas Marques (Photekt)
Open Date
May 2021