Discover Yourself
The museum Øhavsmuseet is situated in Faaborg, surrounded by some of the most beautiful landscapes of Denmark. The nature around Faaborg is unique and very varied with ice-age landscapes, atmospheric bogs, and wooded areas with many burial mounds. 'Discover Yourself' is an exhibition about the importance of nature for humans of today and for our ancestors.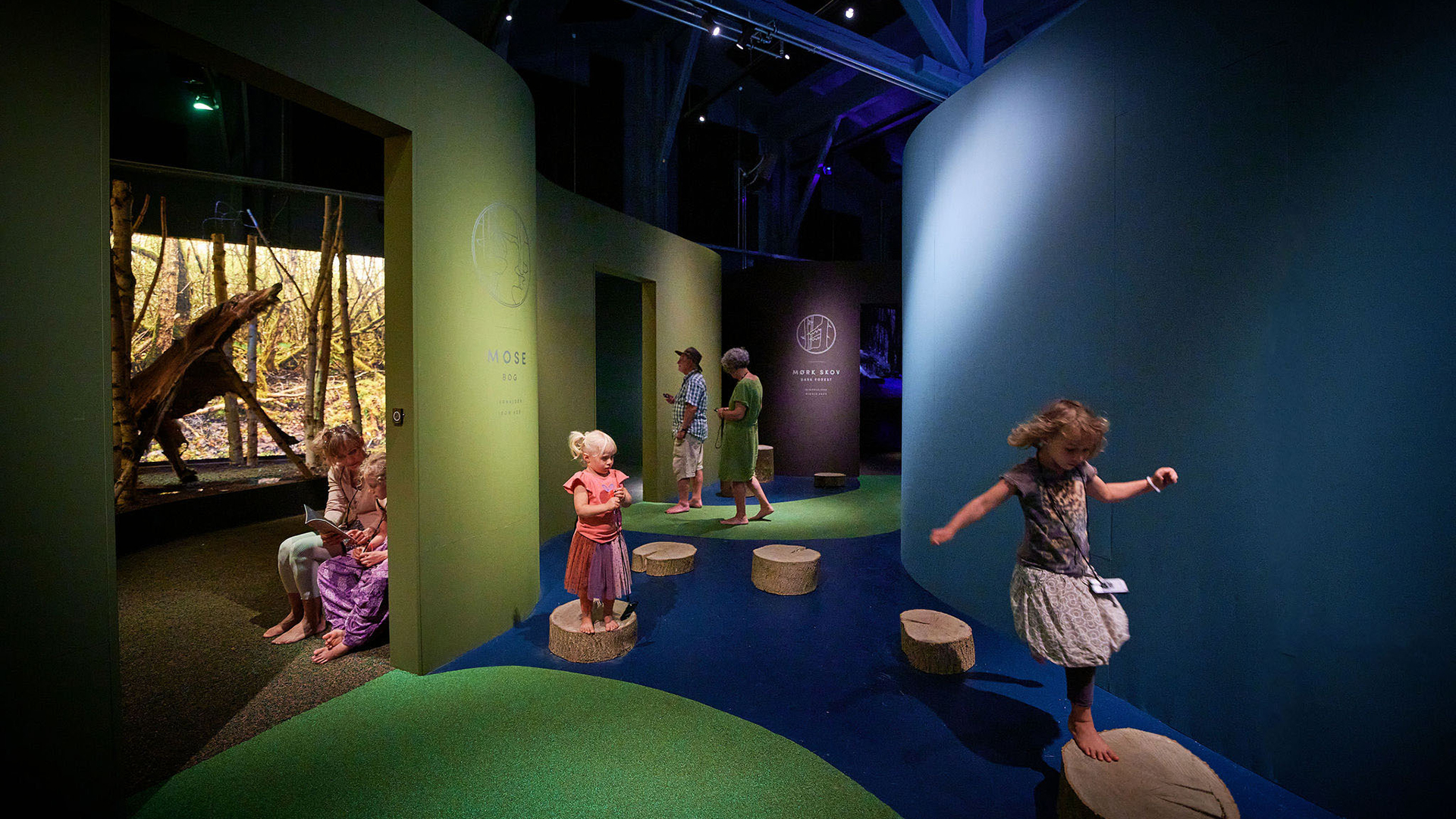 The Challenge
One of the most important challenges that the project had to solve was that the client wanted to develop an experience where guests would have no need for prior knowledge to visit the exhibition. Another challenge was that it was important for the client to create an exhibition which stimulates all senses. An exhibition that addresses the body, the brain, and the imagination. To achieve this the old warehouse was completely rebuilt and the different immersive spaces were created. In those spaces sound, light, films, smells, artifacts, etc. give the visitor a varied experience.
Project Vision
Nature has always played a central part in the lives of humans. However, in course of time, industrialization and urbanization have estranged us from the very same nature. The vision of the exhibition 'Discover Yourself' is to give the visitors an opportunity to reconnect with nature as well as with our common roots. Furthermore, the exhibition also serves as a portal to nature in the area for visitors from all over the world as well as for the locals.
Design + Execution
Torden & Lynild had the main design-responsibility, but the concept was created in close collaboration with the client Øhavsmuseet. Great care was put into the project by everyone involved. A lot of attention was put to all the details like the carefully chosen colors, the interactive elements which engage the visitors, the special sound design of each space etc. An important element is the different materials covering the ground in each immersive space giving a special sensory experience, as you walk through the exhibition without shoes.

Project Details
Design Team
Sigrid Bennike (principal in charge)
Sebastian David Tingkær (creative director)
Zofia Zelazny (exhibition designer)
Rasmus Brusgaard Hansen (exhibition designer)
Amalie Bo (project manager)
Collaborators
Alien workshop (digital fabrication)
Kurtzweil ApS (main fabrication)
FAO Form
PH Byg
PJ Sport (physical fabrication)
Nanna Arnfred (graphic design)
Lystek (lightning design and a/v)
Peter Albrechtsen (sound designer)
Ard Jongsma (film and photo)
Instafilm (film)
Leonie Pichler (manuscript, audio narratives)
Anneline Köhler Juhl (dramaturgy and direction, audio narratives)
David Drachmann (theater painter)
Scanscent (scents)
Step Print Power (printing)
Vision Graphic (printing)
Svanninge Malerforretning (painting)
Handvarkergarden (floors)
Photo Credits
Ard Jongsma (photographer)
Instafilm (videographer)
Open Date
June 2021