Bendigo Art Gallery + Josh Muir: What's on
Your Mind?
When visitors holds an iPad up to artwork, the illustrations become animated, allowing the viewer to experience the works in a culturally engaged and dynamic way. Muir hopes the works support the evolution of Aboriginal art and challenge stereotypes. He combines elements of his proud Indigenous heritage with a broader contemporary visual language. and explores his journey through mental illness.
The Challenge
This would be a contemporary take on First Nations art following the same storytelling traditions, by means of experiential pathways that would encourage more visitors—particularly younger people—to engage with Muir's artwork.
Project Vision
Working closely with Muir, Bendigo Art Gallery, and digital animator Isobel Knowles, we combined augmented reality with an original soundscape and Muir's own narration to add new dimensions to his artwork.
Bendigo Art Gallery + Josh Muir: What's on Your Mind? Video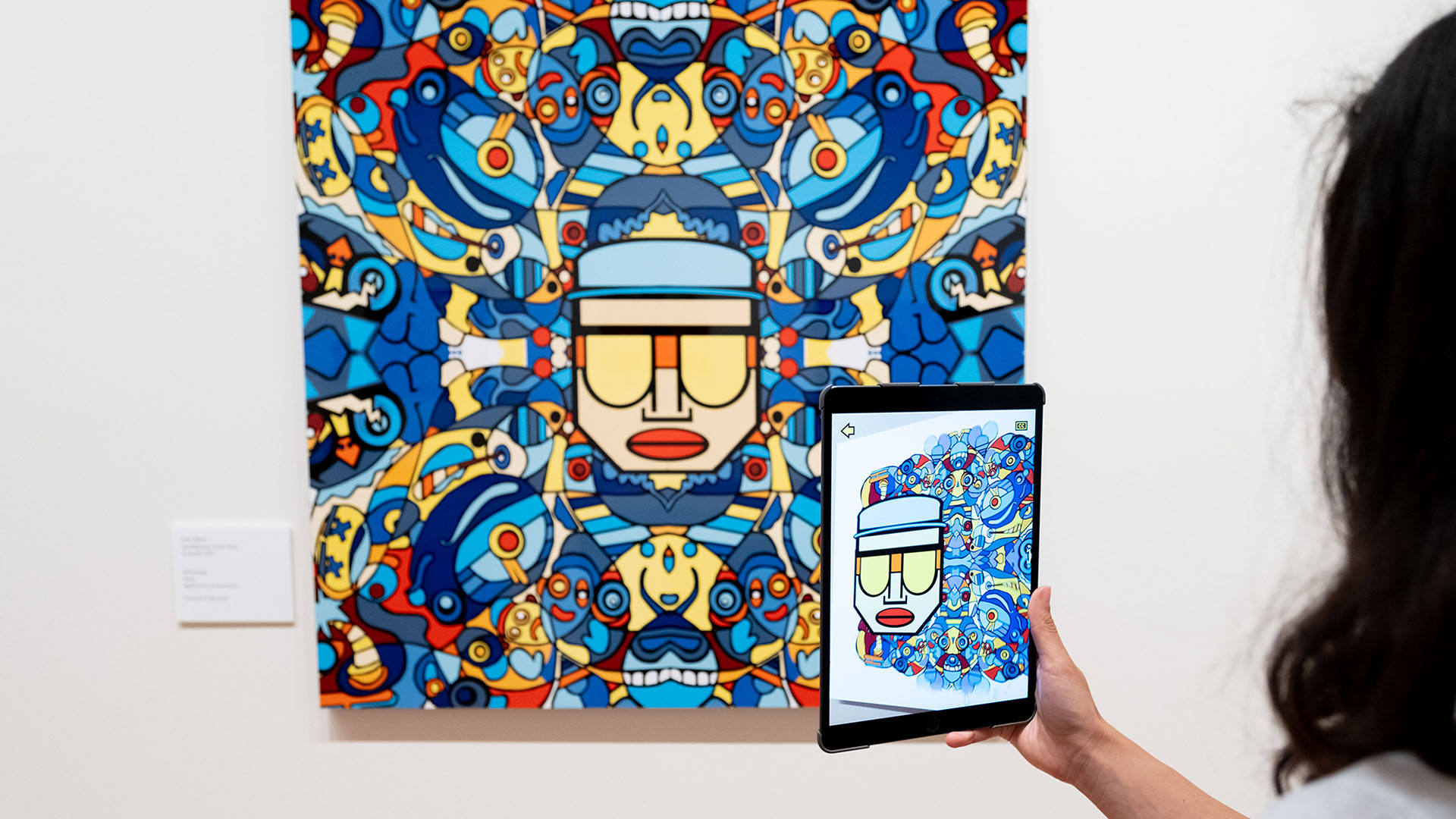 Design + Execution
Working closely with Muir, Knowles and the First Nations Curator Shonae Hobson, the designer created an AR experience that brings the works to life and enables visitors to interact with them and experience a sense of depth. The artworks are the triggers (as opposed to a distracting and clashing QR code) providing a seamless transition. Original music and soundscapes link Muir's raw narration to his slick artworks.
The immersive experience created an easy and engaging pathway for audiences to be part of Muir's exploration of being young and Indigenous in a technological world.
Collaboration was central to the project. The experience was designed alongside Muir and Knowles so that it was integral to telling Muir's personal stories—revealing hidden subtext and delivering the message in a way that visitors might not perceive from just looking at the art.
There are as few barriers as possible, with easy to use technology and a minimal digital interface so that more visitors can enjoy the experience.

Project Details
Design Team
Becky Sui Zhen Freeman (producer)
Dan Parkinson (ar developer)
Mitch McCaffrey (ar developer)
Sebastian Beswick, (technical support)
Collaborators
Josh Muir (artist)
Isobel Knowles (animation & photography)
Shonae Hobson (curator)
Photo Credits
Kimberly Canales-Ascui, Bendigo Art Gallery (photography)
Elliotte Frankie, Bendigo Art Gallery (photography)
Open Date
November 2019