Arctic Adventure: Exploring
with Technology
The experience illustrates how our global climate is changing through diverse augmented learning zones that empower visitors to undertake research with the aim of comprehending how climate history is recorded in the ice. A dynamic and immersive exhibition invites visitors to learn through play, becoming polar explorers who trek across virtual ice fields with ground-penetrating radar and search for wildlife with interactive tools.
The Challenge
Encouraging visitors to interact with real technologies used by researchers to explore and measure climatic changes in the Arctic would empower them to play an active role in the exhibit and better understand the various uses and limitations of these technologies. Focusing the design of the exhibit around the visitor's experience, Arctic Adventures would allow visitors to uncover information, learn and discover at their own pace.
Project Vision
By leveraging cutting-edge light, sound, visuals, and interactive technologies, the team was able to create a dynamic and immersive exhibition that invites visitors to learn through play. Arctic Adventures would feature four distinct zones that each foster unique opportunities for intuitive learning.
The Museum of Science, Boston established several key success factors that guided the project, from the selection process of the Exhibit Design Team through the stages of conception, final design and implementation of the environment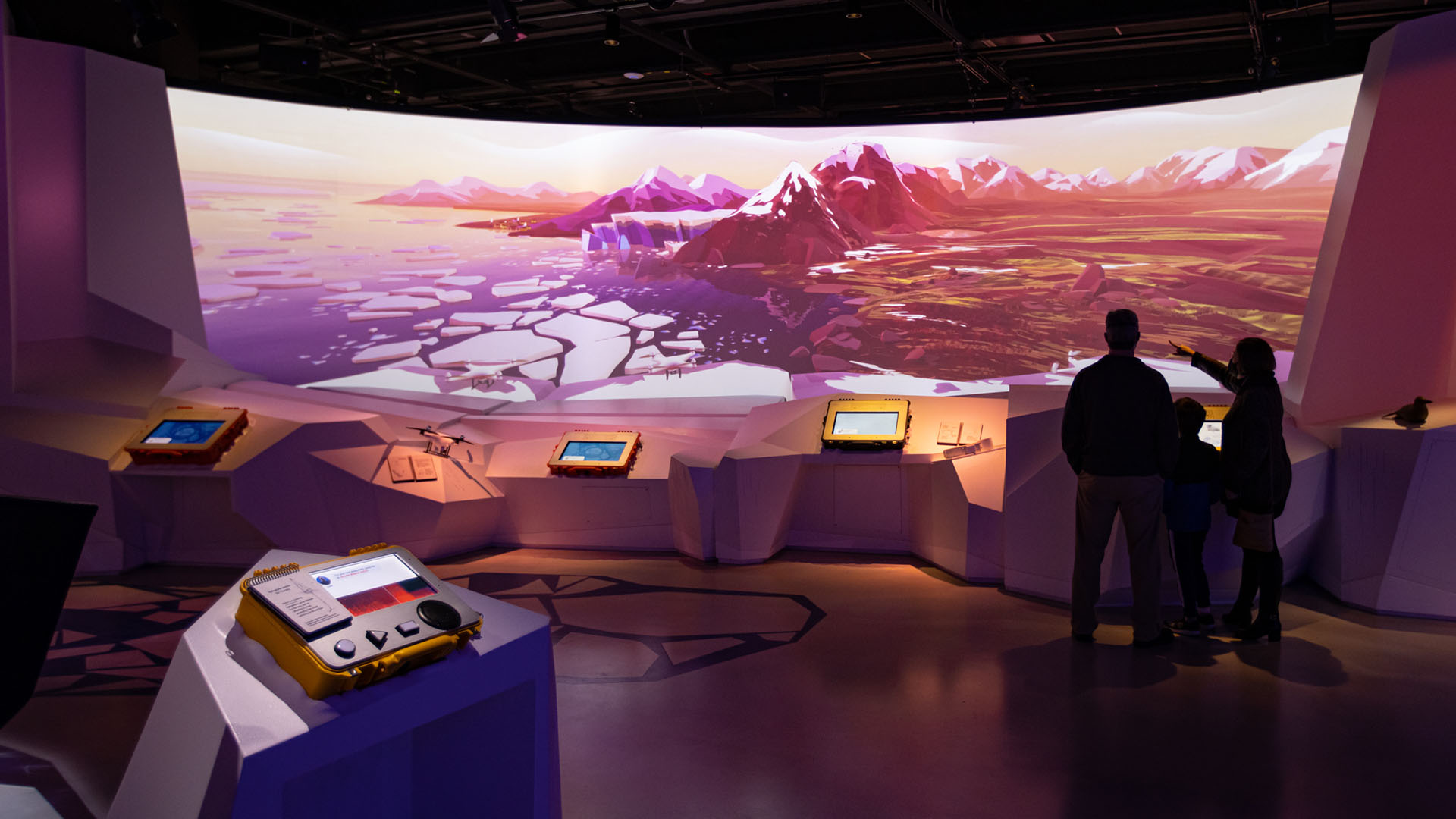 Design + Execution
The design solution for Arctic Adventures was born from the cross-pollination of several media, inspired by video game storyworlds, game-engine design, interactive technology and large-scale video projection to create living, breathing environments that respond to visitors in real time. This interdisciplinary approach was founded on engaging the visitor through immersive storytelling techniques, encouraging discovery using gamified exhibition design and empowering visitors with hands-on experience manipulating technology. These pillars work seamlessly to demonstrate how visitors gain meaningful learnings through play.
A key element involves providing visitors opportunities to directly handle many technologies used in Arctic research, deepening their understanding of the constraints and capabilities of each technology. One such example takes place in the Navigating zone, where visitors must work in teams to maneuver a glacier and avoid letting equipment fall into the crevasses. Equipped with ground-penetrating radar and satellite maps, visitors apply real-life technologies and data to uncover crevasses hidden under the glacier's surface. To heighten the sense of realism and foster collaboration, visitors must collaborate to locate each crevasse and cache. By adding elements of communication and risk, visitors are immediately engaged in the experience. Ultimately, all of the design solutions work together to foster an emotional connection with the exhibition content and shape an unforgettable visitor experience.

Project Details
Design Team
Museum of Science, Boston
Moment Factory
Collaborators
Adirondack Studios (scenographic decor fabrication & installation)
Photo Credits
Moment Factory (photography)
Open Date
December 2020