Americans
This exhibition deconstructs conflicts and decisions involving Native peoples. "Who really won the Battle of Little Bighorn? It's complicated," invites visitors to view the battle from two points of view—the first tells the events through hand-drawn art on muslin and Lakota regalia, while the second viewpoint comes from newsprint and Wild West show ephemera.
The Challenge
With over 300 objects to display in the main gallery and a plethora of text to pair with them, the main gallery could have become completely overwhelmed with artifacts and information, defeating the main curatorial goal of helping visitors make personal connections with the exhibition. The large, irregularly- shaped gallery is populated by a series of concrete columns. A durable installation would need to last a minimum of 10 years, withstanding not only average wear and tear, but also the fading of color imagery and the translucent reflective, matte and highly textured surfaces with digital printing.
Project Vision
Showcasing diverse objects such as a classic 1948 Indian Chief motorcycle, a Tomahawk missile, and Native American Barbie, this intricate display system required creativity and technical expertise to execute. Individual galleries radiating from "Indians Everywhere" present materials with bold graphic motifs coupled with pithy, provocative quotes. They inspire the visceral questioning of common assumptions involving historical topics—Pocahontas, the Battle of Little Bighorn, Thanksgiving, and the Trail of Tears. By understanding the past, visitors recognize the cultural complexity of Native peoples in America's collective history.
Design + Execution
Comprised of 32 sections that were assembled quickly on site, the armature in the central hall incorporates lighting, data and security for over 200 elements including fine art, historical objects, props and backlit graphics panels. The team built sample sections at full size to study the integration and test various technologies. In particular, the curving sections had to be welded precisely to integrate with standard tubular steel sections.
There are no standard stud walls; rather, a close collaborated with the fabricators produced a building technique that constructed plywood backup with MDF cabinetry that included the display boxes. This method allowed hundreds of electric feeds and data cords to feed up to the top of the walls where they aggregate into sections and hook to dimmer panels.
To guide visitors through the "Indians Everywhere" immersive gallery, intuitive touchscreens reveal the history and significance of items ranging from Indian-themed mascots to missiles. A user-friendly interface greets visitors with a scrollable grid of digital images corresponding to the physical items in the gallery. The entire interface uses the same graphic motif as found elsewhere in the exhibition giving visual coherence to the spatial design as a whole.
Located on the floor of the exhibition hall at ADA compliant tables, decoders are designed to accommodate two single users at once and are oriented to maximize views of the panoramic exhibition. Built as a Chrome Kiosk application, the decoders are programmed in React and HTML5 and meet WCAG 2.0 web- accessibility guidelines.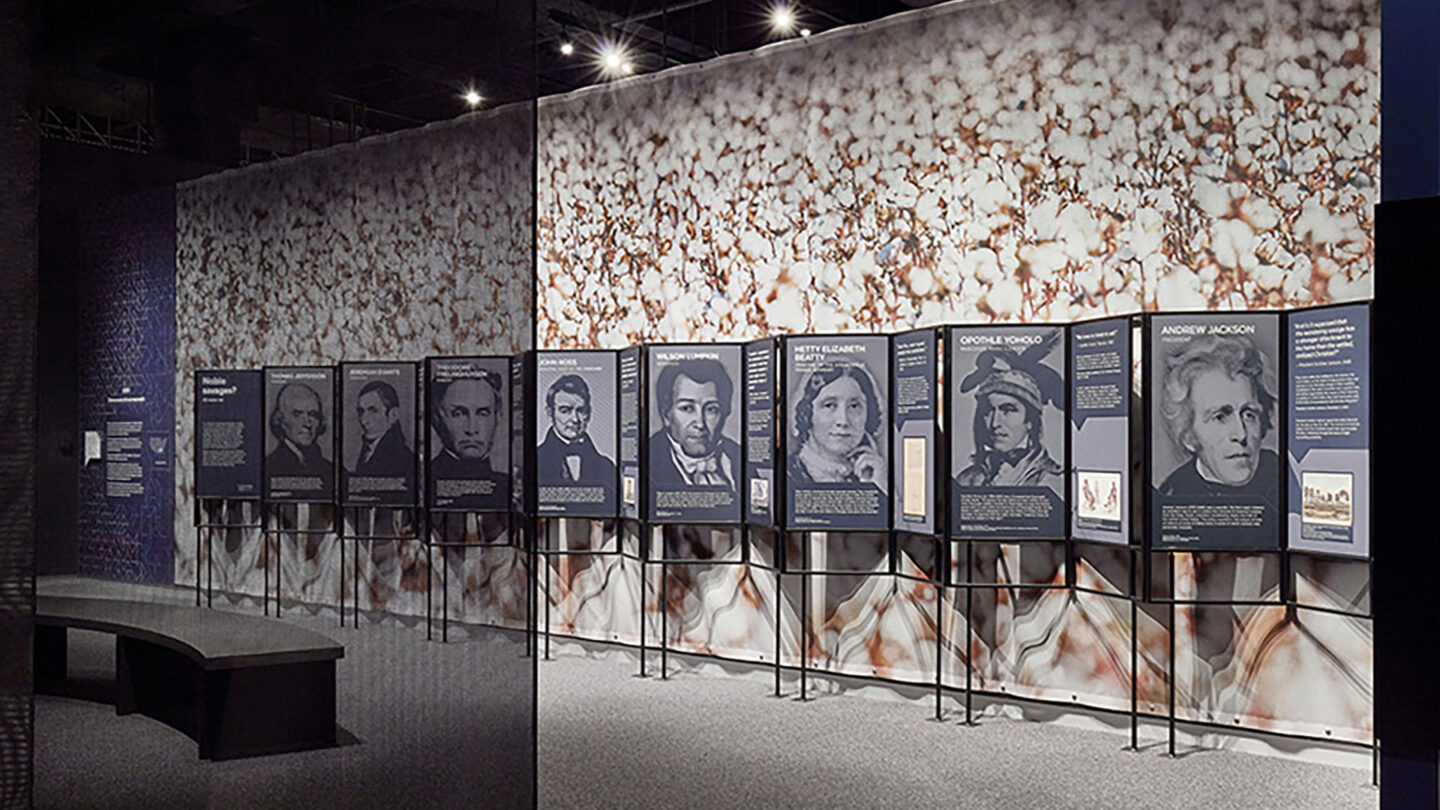 Project Details
Design Team
Wendy Evans Joseph (principal)
Monica Coghlan (director of design)
Jose Luis Vidalon (senior project manager)
Collaborators
Capitol Museum Services (fabrication/graphics)
Duggal (fabrication)
Bluecadet (media design for decoder)
NR2154 (graphic design)
Anita Jorgensen Lighting Design (lighting design)
Hage Engineering (structural engineering)
James Posey Associates (electrical engineering)
Re:Vision Architecture (LEED commissioning)
Lee Haase (cost estimator)
Belt Built (architectural contractor)
Photo Credits
Thomas Loof (photography)
Open Date
January 2018