447 Collins
Melbourne's newest landmark is a world-class mixed-use precinct spanning a 6,000- square- metre block on Collins Street, the city's premier commercial and retail street. "Civitas" draws on the site's historical connections with public space as Melbourne's first fruit and vegetable market in 1841 and later the National Mutual Plaza in 1961.
The Challenge
Three towers all required a unifying language and unique identities. The challenge was to create a navigation and identification system that gave clarity to the entry of each tower from a central civic space that can be accessed from four street boundaries. The precinct encompasses residences, a five-star W Melbourne hotel, commercial office space, retail and dining offerings, and over 1,900 square metres of public open space, including the new Market Street Park and tiered amphitheatre.
Project Vision
With Collins Street as the premium street in Melbourne for all three key components, the 447 Collins St Commercial Tower and 433 + 439 Collins St Residential Towers all required a unifying language and unique identities. As well as the clarity of address, the site signage also had to encompass W Melbourne hotel, retail, dining and 2000m² of public open space, including a new Market Street Park and a tiered amphitheatre.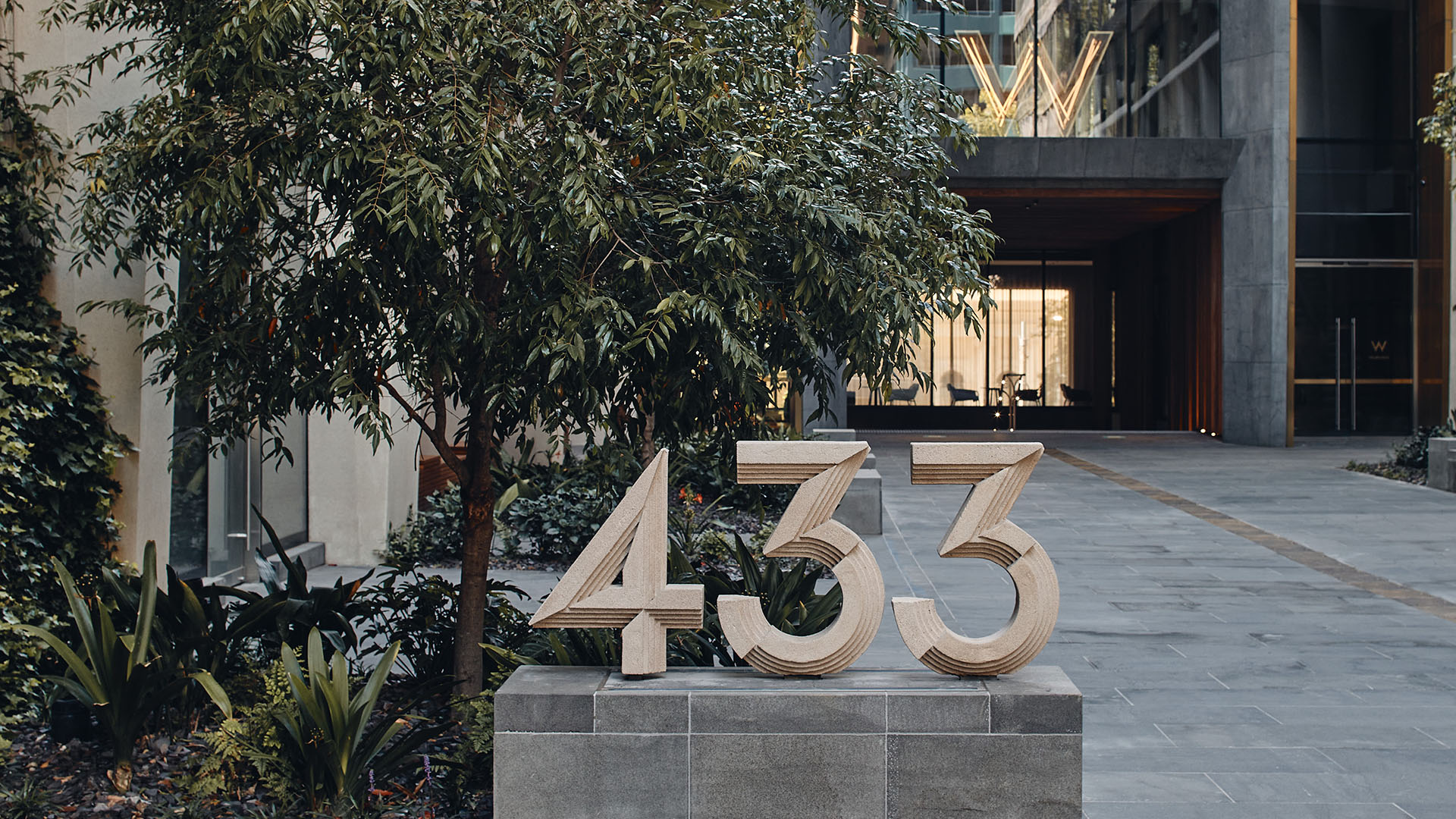 Design + Execution
Responding to the cohesive and refined material palette of the building's design by SHoP Architects and Woods Bagot, the wayfinding and signage solution draws on the themes of community and classical timelessness. Civitas was established as a cohesive design thematic; recognising the importance of citizenship, a common purpose, and sense of community.
The Civitas narrative is expressed through all areas of the space with supersized cast concrete numerals heralding the three Collins street addresses of 447 Collins St Commercial Tower and 433 + 439 Collins St Residential Towers. The custom designed three-dimensional street numbers become both sculptures and signifiers, contributing to a sense of place and reinforcing intuitive orientation.
Within the commercial and residential towers, a series of extruded and floating wayfinding signage elements add a layer of considered design detail to the interiors.
As arguably the most important and culturally significant urban development site in Melbourne, the design expression reflects and reinforces the site's connection with public space, social history and a physical form that foregrounds its value as a public domain. Corbelled stone totems with inlaid bronze text create a language of external public wayfinding elements, reinforcing the architectural legacy and contributing to the sense of a new civic precinct, the "Civitas".

Project Details
Design Team
Fabio Ongarato (creative direction)
Sarah Cope (project management)
Ben Kluger (design direction/strategy/design)
Mami Sugano (strategy/design)
Collaborators
Woods Bagot
SHoP Architects (architecture)
Oculus (landscape)
Photo Credits
Peter Bennetts (photography)
Open Date
November 2020