Celebrating the Impact of SEGD Fellows on Washington DC's Cultural Landscape
SEGD Fellows have significantly influenced the cultural landscape of Washington DC, shaping the design of prominent projects throughout the city.

Celebrating the Impact of SEGD Fellows on Washington DC's Cultural Landscape
Read Time: 6 minutes 45 seconds
SEGD Fellows have significantly influenced the cultural landscape of Washington DC, shaping the design of prominent projects throughout the city. Their expertise and creativity have transformed museums, exhibitions, wayfinding systems, and interactive media installations, enhancing the visitor experience and leaving lasting impressions. Join us at the 2023 SEGD 50th Anniversary Conference in Washington DC to witness firsthand the iconic projects created by these visionary designers. Explore their innovative storytelling and immersive designs that have captivated millions and discover the indelible mark they've made on the capital's cultural fabric.
Don't miss this historic event celebrating the remarkable contributions of SEGD Fellows to the world of environmental graphic design. EGD/EXD project examples in Washington DC by our own SEGD Fellows:
SEGD Fellow – Michael Gericke, Pentagram
Project: The National Gallery of Art Identity (2021)
Michael Gericke, in collaboration with Michael Beirut and the leadership team at the National Gallery of Art, led the design of a new contemporary visual identity for the institution. The revitalized brand reflects the gallery's vibrancy, diversity, and accessibility. It includes a bespoke typography inspired by the gallery's inscriptions, a unique "N" letterform, and a full spectrum color palette. The flexible system allows for various brand expressions, creating a cohesive and engaging experience.
SEGD Fellow – Patrick Gallagher, G&A
Project: The International Spy Museum (2002 and 2019)

Gallagher & Associates played a pivotal role in the creative visioning and design of the International Spy Museum, which reopened in a new state-of-the-art building in 2019. The immersive experiences, exhibitions, media, and graphics designed by the firm invite visitors to embark on an undercover mission, engaging in the intelligence process through innovative storytelling and immersive design. The museum's expansion and transformation showcase the team's commitment to pushing boundaries and creating captivating visitor experiences.
SEGD Fellow – Ralph Appelbaum, RAA
Project: The National Museum of African American History and Culture (2016)

The National Museum of African American History and Culture features 85,000 square feet of inaugural exhibitions that tell a powerful 400-year story of African American history and culture. Ralph Appelbaum Associates designed twelve unique galleries that explore history, community, and culture, capturing both challenging and celebratory moments. The strategic placement of iconic artifacts and the raw materiality of the space highlight the exhibits, creating a transformative visitor experience.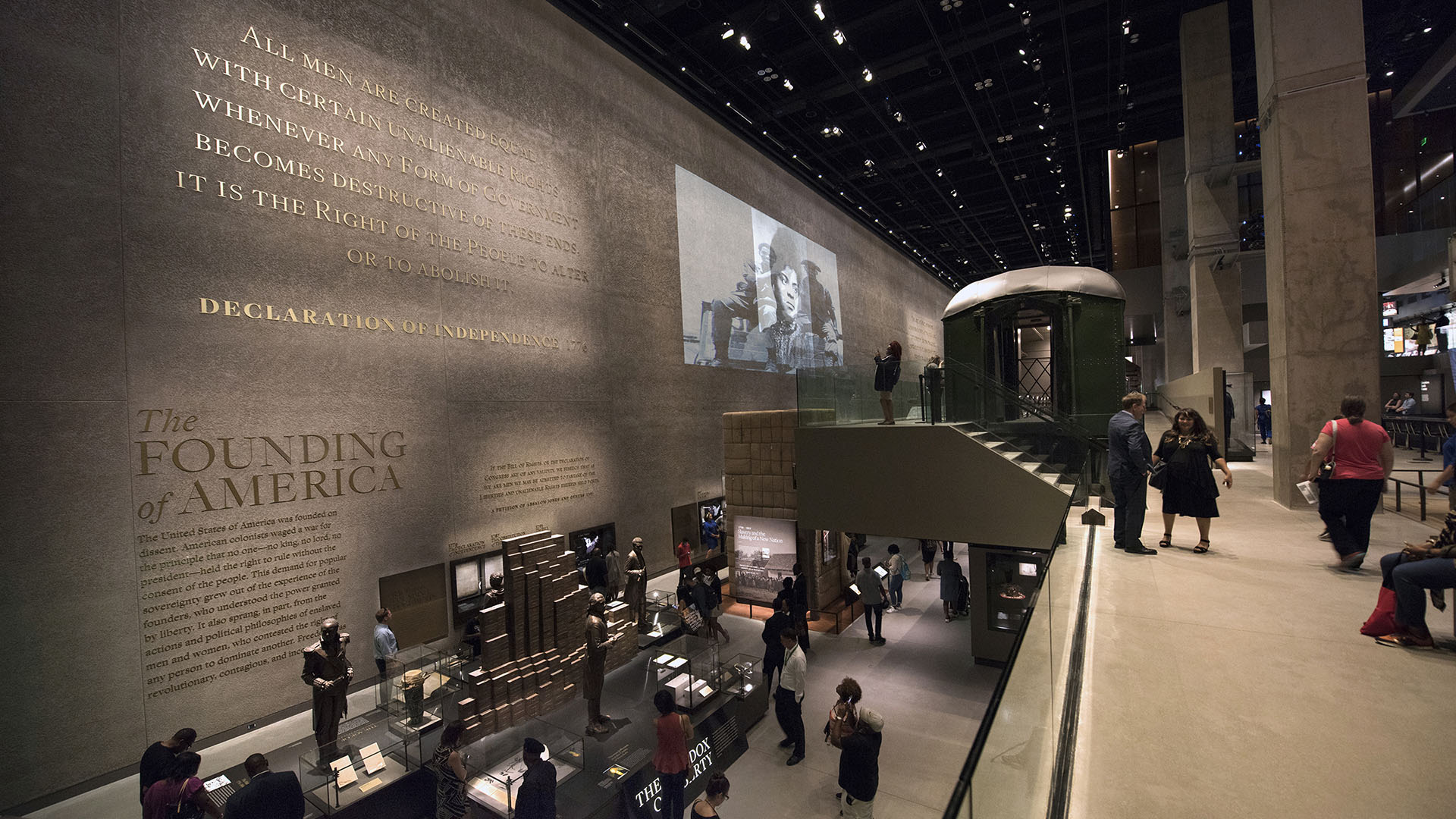 SEGD Fellow – Edwin Schlossberg, ESI/NBBJ
Project: Terrell Place, City Center, Artful Displays (2016)

ESI/NBBJ's design for Terrell Place in City Center showcases 1,700-square-feet of motion-activated LED displays that react to the presence of people, creating an ever-evolving artwork. By seamlessly integrating these displays into the walls, the design team transformed the space into a captivating environment that engages and acknowledges visitors. The innovative use of technology and design principles allows for a unique sense of place and connection.
SEGD Fellow – Alan Jacobson, EXIT Design
Project: George Washington University: Science and Engineering Hall, Wayfinding (2015)

Exit Design facilitated collaboration between scientists, engineers, and the public at George Washington University's Science and Engineering Hall. Through comprehensive wayfinding, identity design, and interpretive elements, the design team effectively communicated the collaborative work happening within the facility. The system incorporated static and digital graphic elements, creating a cohesive and informative environment for visitors.
SEGD Fellows – Jerome Cloud and Virginia Gehshan, Cloud Gehshan
Project: American Veterans Disabled For Life Memorial (2014)

Cloud Gehshan designed the American Veterans Disabled For Life Memorial, the first national memorial dedicated to disabled veterans. The design features dramatic glass walls that showcase the personal stories of veterans and their extraordinary sacrifice. The montages, illuminated by changing light and reflections, capture the essence of loss, hope, struggle, and strength, paying tribute to disabled American veterans across various military conflicts.
SEGD Fellow – Richard Poulin and Doug Morris, Poulin Morris
Project: NPR Headquarters and Production Studios (2013)

Poulin + Morris designed comprehensive environmental graphics and wayfinding programs for NPR's new headquarters in Washington. The LEED-Gold certified facility features an exterior icon tower, LED ticker ribbon, electronic displays, wall murals, and large-scale numerals for identification. Poulin + Morris also developed a two-story digital media mosaic and a reader rail exhibition, enhanced with interactive elements and a smartphone interface for audio clips.
SEGD Fellows – Julie Beeler and Brad Johnson, Second Story
Project: The National Archives, Record of Rights, Interactive Media (2013)

At the entrance of the "Records of Rights" exhibition, the 1297 Magna Carta challenges the monarchy's authority, setting the stage for the concept of freedom under law. In the Rubenstein Gallery, a 17-foot interactive table features 300+ National Archives documents on workplace rights, First Amendment rights, equal rights, and Native American rights. Visitors can explore issues and share documents in a dynamic, motion-activated display. The exhibition extends beyond the gallery walls with a complementary website for online access.
SEGD Fellow – Wayne Hunt, HUNT Design
Project: DC National Mall Comprehensive Sign Plan, the National Park Service (2011)

Hunt Design crafted a new wayfinding signage program for the National Mall in Washington, D.C. With over 500 signs and maps, it guides visitors to 50 museums, monuments, and memorials. Covering 400 acres, the program caters to 25 million annual visitors. The design is respectful, permanent, and non-intrusive, using pictograms to highlight destinations. Extensive reviews involved multiple organizations, ensuring a high-quality outcome. The system includes porcelain pylon sign towers and visitor-friendly maps.
SEGD Fellows – Chris Calori and David Vanden-Eynden, C&VE
Project: Washington DC Downtown District Signage Program (2002)
The DC citywide wayfinding program triumphed after 25 years of failed attempts. Catering to 22 million annual tourists, the signage system is highly acclaimed by both visitors and residents. It encompasses pedestrian, vehicular, and map signs, tailored for the National Mall and DC Heritage Trails. The design harmonizes tradition with a modern touch, while bomb-proof signs on Pennsylvania Avenue ensure added security.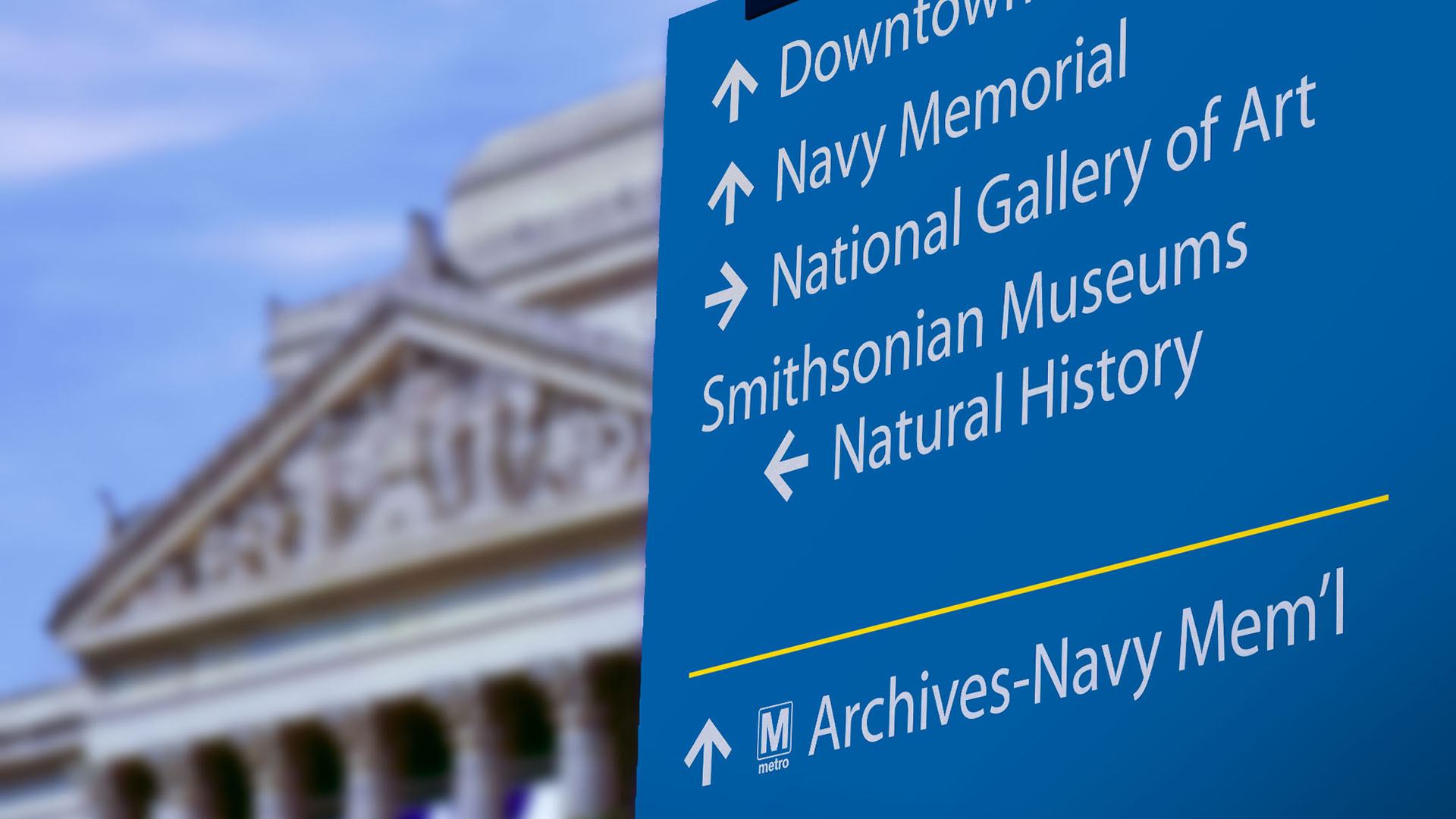 SEGD Fellows – Robert Venturi (deceased) and Denise Scott Brown, Venturi, Rausch and Scott Brown
Project: Freedom Plaza (1980)
Venturi, Rausch, and Scott Brown, along with landscape architect George Patton, played a significant role in designing Freedom Plaza, part of the Pennsylvania Avenue Development Corporation's plan to connect the U.S. Capitol to the White House. Opened in 1980, this Modernist plaza honors Martin Luther King, Jr. Its raised terrace platform features a pavement with a map of the Federal City, grass panels representing iconic locations, bronze markers, and historic quotations. The plaza includes a fountain and an equestrian statue of Kazimierz Pułaski.
SEGD Fellow – Lance Wyman, Lance Wyman Design
Project: The National Zoo Iconography/Wayfinding (1975)
Founded in 1889, the Smithsonian's National Zoological Park housed 1,800 animals and 360 species across 163 acres in the 1970s. The signage system, with hundreds of design styles, was disorganized and inconsistent. A visitor survey highlighted the problem, leading to the creation of a cohesive graphics system by Wyman and Cannan. Wyman's iconic pictograms and totem system have guided visitors for over four decades.
SEGD Fellows – Tom Geismar and Ivan Chermayeff (deceased)
Project: Environmental Protection Agency (EPA) Graphic System (1975)
Founded in 1957, Chermayeff & Geismar agency emerged as modernist designers, using design thinking to solve business problems. One of their notable projects was developing an iconic graphics system for the EPA. Supported by NEA and the Federal Graphics Improvement Program, they updated the agency's graphic standards guide, enhancing its ability to achieve its goal of a cleaner environment for the American people.
SEGD Fellow – Massimo Vignelli (deceased)
Project: DC Metro Wayfinding Signs (1972)
In the mid-1970s, Vignelli partnered with D.C. Metro architect Harry Weese, to create a wayfinding marker to alert a passenger where they were — whether it be in or outside a Metro station. The brown pylons that signify the location of a Metro stop were designed by Vignelli and have been a symbol of the Metro ever since.